'Star Wars: The Force Awakens': Latest Buzz, Reviews and Last-Minute Ticket Advice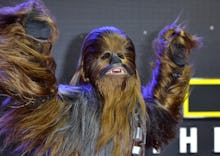 The big day is just around the corner: Star Wars: The Force Awakens premieres Friday after months of hype. The world premiere happened in Los Angeles on Monday (with much fanfare) and the first reviews are already out. 
New York Times film critic Manohla Dargis (without revealing any spoilers) gave the new addition to the Star Wars franchise a generally favorable review, calling it "a movie that goes for old-fashioned escapism even as it presents a futuristic vision of a pluralistic world." As of Wednesday evening, Star Wars: The Force Awakens holds an admirable 96% on movie-review aggregator Rotten Tomatoes.
Any fans hoping to snag tickets to see the film on opening night may face a struggle: Advance tickets first went on sale Oct. 19 and many theaters have been sold out for weeks. The official Star Wars website provides links for finding tickets at movie theaters around the world.
The plot of the new film has pretty much been kept on the down-low, but cast info and some basic details about the story have been revealed bit by bit over time.
With opening night so tantalizingly close, #StarWars was trending on Twitter on Wednesday. Fans could barely contain their excitement:
Some are even looking way, way to the future: