Pharma Bro Martin Shkreli Has Been Arrested for Securities Fraud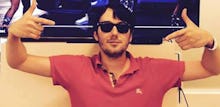 Martin Shkreli, the hedge fund manager turned pharmaceutical CEO who rose to infamy after raising the price of a lifesaving HIV drug by 5,000%, was arrested Thursday morning in New York City, Bloomberg reported. 
The bust is unrelated to the drug price scandal. Rather, prosecutors are charging Shkreli with securities fraud in what appears to be the latest in a long-running dispute with Retrophin, a biotech company he founded in 2011.
Shkreli stands accused of illegally bilking the company, taking Retrophin stock to pay off unrelated debts, including millions of dollars in losses by Shkreli's hedge fund MSMB Capital Management. On Thursday afternoon, Shkreli was released on $5 million bond. He will next face a judge on Jan. 20. 
In a statement to Mic by the Citizens for Responsibility and Ethics in Washington, a nonprofit of which Shkreli has long been a target, executive director Noah Bookbinder wrote:
In 2012, CREW was the first to call attention to Martin Shkreli's financial shenanigans, requesting that the Department of Justice and SEC investigate Shkreli for his actions at MSMB Capital Management. This morning's arrest of Shkreli by the FBI shows that the law applies to everyone. We commend the DOJ for sending a clear message that these types of action will not be tolerated.
Shkreli split with Retrophin in 2014 after the company ousted him as CEO, leading to Shkreli's resignation and ultimately the creation of his most recent venture, Turing Pharmaceuticals. In a concurrent lawsuit accompanying his current legal woes, Retrophin accused Shkreli of breaching a "duty of loyalty" clause in his contract that required him to act in the best interests of the company and demanded $65 million in restitution. 
"Shkreli was the paradigm faithless servant," the suit read. "Starting sometime in early 2012, and continuing until he left the company, Shkreli used his control over Retrophin to enrich himself and to pay off claims of MSMB investors (who he had defrauded)."  
Shkreli became a bête noire of the public imagination after Turing Pharmaceuticals raised the price of Daraprim, a lifesaving anti-parasitic used to treat toxoplasmosis, an infection especially dangerous for individuals with HIV, from $13.50 a pill to $750. A look at his past history with Retrophin, however, shows that he often took a brass knuckle approach to business, and left plenty of enemies in his wake.
In 2012, CREW made a formal request to U.S. Attorney Preet Bharara to investigate Shkreli for illegal stock manipulation during his time at Retrophin. The organization alleged:
Mr. Shkreli has posted blogs on investing website SeekingAlpha.com, spreading unfounded and inaccurate rumors about drugs owned by companies he was shorting. He also inserted himself into the FDA approval process for pending drugs of companies he was shorting. Following such actions, the companies' stock price dropped and Mr. Shkreli made money.    
Before his final split with the company, Shkreli also engaged in an unusually public and hostile fight with another Retrophin employee, Timothy Pierotti, who he accused of theft. In a sworn affidavit to New York's State Supreme Court in 2014, Pierotti said Shkreli had hacked his AOL, Gmail, Twitter and LinkedIn accounts, and sent a letter to Pierotti's wife saying, "I hope to see you and your four children homeless and will do whatever I can to assure this." 
Since his rise to prominence, Shkreli made numerous TV appearances over the controversy and has personally engaged critics via his lively Twitter feed, as well as on Tinder. His brashness and justification of his business practices had almost won him a measure of public respect with nuanced profiles like this one. Almost.
It's unclear whether his arrest will again shift public opinion against him — but don't blame yourself for feeling a little smug over the news. The sentiment is known as "Shkrelifreunde," and it's been sweeping the nation since September. 
Read the full text of the indictment here.
Dec. 17, 2015. 4:05 p.m. This story has been updated.
Get the five stories that will challenge you to rethink the world by signing up for MicCheck Daily.