Ludwig Van Beethoven Is Today's Google Doodle — Here's How to Solve the Sheet Music Game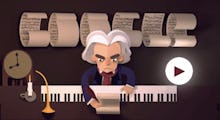 Ludwig Van Beethoven certainly had his fair share of tough days, serving as the primary breadwinner for his family starting at just 10 years old and having gone deaf during the prime of his life, according to Google. Now, 245 years later, it looks like the great classic composer still can't seem to catch a break in today's Google Doodle.
Today's Google Doodle: Google is celebrating the 245th anniversary of Beethoven's baptism Thursday — his date of birth is unknown — with an interactive online quest, featured on Google's homepage above the search bar. It's a race to get the cartoon Beethoven to the symphony hall by putting the pieces of the musical puzzle together just in time for his grandiose performance.
"Here's to one of history's greatest artists, and to hoping that, wherever you happen to be traveling this holiday, your life's work isn't eaten by a horse," Google wrote in its announcement for the latest Doodle Thursday.
How to play the game: The game begins with Beethoven's horse chomping down on a stack of the artist's sheet music as he's preparing to take off and head to the show. How is Beethoven supposed to perform when his compositions are totally out of order?
That's where Google users come in. Align the sheet music from some of Beethoven's greatest compositions in order to help get Beethoven to his big show. The interactive puzzle, created by Google engineers Jordan Thompson, Jonathan Shneier, Kris Hom and Charlie Gordon, along with design lead Leon Hong and additional art by Nate Swinehart, allows a user to mix and match the order of Beethoven's papers as he ventures to his destination. 
Listen to the notes played throughout each audio clip and try to determine whether the notes found on each sheet are in order with the notes played in Beethoven's classics, from "Für Elise" to the "Fifth Symphony." When the order of the sheet music is correct, Beethoven journeys onto the next obstacle.
"Even when you're the preeminent musical genius of your generation, sometimes you just step in it," Google wrote. "Ludwig's father, a middling singer in the Elector's court and a man too often in his cups, pulled the precocious child out of school at the age of 10 in hopes of earning some money on the shoulders of his talent (as a result, his handwriting was so bad that musicologists still struggle to authenticate his signature). He lost two siblings prematurely, had to assume full responsibility for his family as a teenager, fell madly for unrequiting lovers twice and, most famously, began losing his hearing at the peak of his career."
And yet, here we are, playing an online game about Beethoven and matching sheet music from some of the most universally recognizable songs in history, 245 years later — proving that something beautiful can come from even the worst of days.