Marijuana Legalization in Kentucky: New Bill Aims to Legalize Weed in 2017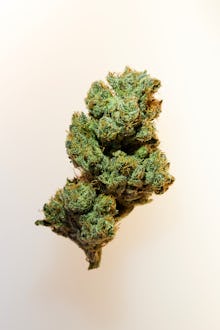 A bill from Sen. Perry Clark (D-Ky.) introduced last week aims to change recreational marijuana laws in the southern state. If passed, the bill, which is called the Cannabis Freedom Act, would add Kentucky to Colorado, Alaska, Oregon and Washington as the fifth state to legalize the recreational use of marijuana. A full 23 states have legalized marijuana in some form.
According to a summary of the bill, Kentucky residents ages 21 and older would be allowed to carry up to one once of marijuana, grow no more than five cannabis plants, share no more than an ounce of marijuana with another person without collecting compensation and store any surplus cannabis at the same location it was legally grown. 
Read more: 
"It is not a hard drug," Clark told WDRB. "It is senseless that you have cannabis as a Schedule 1 drug with heroin and LSD. We have got to fix this pension issue. I know of no one that has come up with any kind of credible answer.
"We have criminalized people and vilified a plant that is actually, probably, benign and beneficial to us."
Benefits to the state: In addition to arguing that classifying marijuana as a Schedule 1 drug is too harsh a categorization, Clark said the state of Kentucky would benefit from the types of tax revenues Colorado has enjoyed since legalizing recreational cannabis. The Cannabis Freedom Act would put the Department of Alcoholic Beverages and Cannabis Control in charge of regulating the state's marijuana market and also create a department called the Division of Cannabis, which would be empowered with administering regulations for the cultivation, processing and sale of the drug. 
The Cannabis Freedom Act proposes to impose an excise tax "on licensees operating cannabis cultivation facilities selling or transferring cannabis to either a cannabis processing facility or a retail cannabis facility," and the rates are steep. The bill proposes to impose a tax of $10 for each "immature" cannabis plant, $10 for every other part of the plant that isn't the flowering bud and $30 per ounce of each plant's flower. 
So where would that tax money go? The bill proposes to create a body called the Kentucky Responsible Cannabis Use Program, which would be set up as a restricted fund set up to handle cannabis tax revenue. According to the bill's summary, 30% of all tax revenue would go into the Kentucky school system, 10% of revenue would be funneled into substance abuse treatment programs through the Office of Drug Control Policy, 15% would be used to fund grants via the Kentucky Law Enforcement Council to buy communications and defense equipment and the remaining 15% would be held in a general fund. 
Medical cannabis in Kentucky: The Cannabis Freedom Act would also pave the way for the legalization of medical marijuana use, something state law makers have unsuccessfully tried to achieve in the past. One bill that would have legalized medical marijuana in the Bluegrass State failed in 2015. The bill, titled HB3, earned sponsorship from state House Speaker Greg Stumbo, though it was never passed according to Marijuana Policy Project , as the legislature adjourned in March before voting on HB3. 
According to the bill's summary, the Cannabis Freedom Act would allow "any licensed physicians acting in good faith to recommend cannabis or cannabis products to their patients."