People Love This Sikh Former NCAA Basketball Player So Much, They Want to #BeLikeDarsh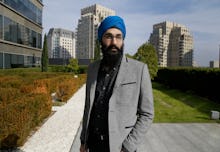 Move over, Michael Jordan. People don't want to #BeLikeMike anymore — they want to #BeLikeDarsh. 
Darsh Preet Singh was the first turbaned Sikh to play NCAA basketball, and his jersey hangs in the Smithsonian Institute. Unfortunately, that didn't stop somebody from posting an online meme confusing the Sikh athlete for a Muslim and making an Islamophobic joke to boot. 
A Facebook called "THUG LIFE" posted a meme that read "Nobody at school wants to guard Muhammad, he's too explosive." 
Moved to speak: A friend, Greg Worthington, took to Facebook to respond and point out the many assumptions about Singh that were incorrect — he's actually Punjabi, he's Sikh, his name is not Muhammad and he's a U.S. citizen. The internet responded with a series of memes that embraced Singh and his legacy, and the #BeLikeDarsh meme was born.
One of the first to post a response was the Smithsonian, which holds Singh's jersey. 
Many more quickly joined in: 
Singh speaks out: Singh, a native-born Texan, wrote an op-ed in the Dallas Morning News addressing the controversy. 
He thanked his friend Worthington, whose "Christian values compelled him to speak up when he saw something he felt was wrong." Singh also said he didn't realize the power of the internet to create compassion. 
"I witnessed hundreds of friends, old and new, rally around shared values of truth, education, and compassion," he wrote. 
Singh explained the Sikh tradition to readers and thanked Greg and Dallas Mayor Mike Rawlings for calling out the hate. He wrote: 
In the Sikh tradition, we believe the Divine Light exists within everyone, but we create walls of falsehood in our own minds to prevent connection. Like my friend Greg, when [Dallas] Mayor [Mike] Rawlings called out the hateful rhetoric, he was able to acknowledge the humanity of the situation and remove false barriers by re-focusing the dialogue on shared values of inclusivity, compassion and thoughtful dialogue.
The Singh situation happened in the week following President Barack Obama's comments on Islamophobia during his Oval Office address, making Singh's situation even more poignant. During the address, Obama discused the anti-Muslim rhetoric that influenced policy proposals like a Christian-refugees-only proposal and Trump's suggestion of an outright Muslim ban. 
"It is our responsibility to reject proposals that Muslim Americans should somehow be treated differently," Obama said.
In a later interview with MSNBC, Singh addressed the events again. He said, "As a Sikh and as an American, I believe that love is the most powerful force in the world. And this story reinforced that for me." 
Singh said the original meme was posted out of ignorance and that he wasn't going to address that. Rather, he wanted to focus on Worthington's love — as well as the response of others. 
He told MSNBC: "Silence in the face of prejudice is an act of hate."