The Goddess Lupita Nyong'o Just Debuted the Best 'Star Wars' Style Yet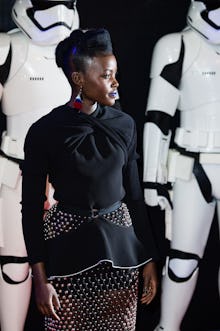 Actress Lupita Nyong'o can do no wrong. 
The entire (fashion-loving) world goes into near-cardiac arrest when she steps onto the red carpet wearing whatever color of the rainbow she chooses. She will always look better than you ever will. Always. We just have to accept that. 
Now, she's gone ahead and pulled off a beauty trend we had brushed off as yet another completely unrealistic Instagram fad: blue lipstick. 
The hue was recently popularized by Kylie Jenner and was one of Pantone's colors of the year, in a light shade. There were guides written to show us how us mere mortals could pull it off. But we knew we couldn't. We knew that if we swiped on the shade, we'd look like we had gotten frostbite or had just eaten a bowl of Smurf soup. 
But, hey, if Lupita can pull it off...
Oh yeah, she pulls it the fuck off. 
Nyong'o wore the deep shade to the London premiere of Star Wars: The Force Awakens. She paired the lips with a high chignon and a futuristic dress by Proenza Schouler. 
According to an interview with Teen Vogue, makeup artist Nick Barose said that he found the galactic blue shade fitting for the premiere. "We've been wanting to do blue lips for a long time, and this was perfect moment for it!" 
How did he make it not look so garish? How did he make the shade look otherworldly and cool? According to him, by using an array of Lancome products, and a bit of bravery.
"When it comes to unusual lip color, think outside the box," Barose told Teen Vogue. "Sometimes you can use eye products to create a unique color. Blue lipstick can seem scary, but its all in layering the right shades and depth so the effect is luxe and not garish." 
With this red carpet appearance, Nyong'o has officially opened the doors to all the other Instagram fads we've looked past. Now that we know blue lipstick is doable, the world of glitter eyebrows or even glitter armpits is our oyster. 
Basically, all we have to do to pull of, say, orange lipstick or glittery hair is channel the confidence of Lupita Nyong'o.  
By channeling her spirit, you can wear whatever you want. We now believe in ourselves.