US and Cuba Reach Agreement on Commercial Flights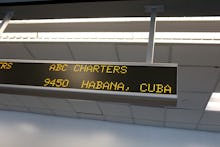 A year ago Thursday, President Barack Obama and Cuban President Raul Castro announced intentions to heal relations between the United States and Cuba. Over the summer, the United States officially reopened its Havana embassy and the U.S. flag flew over it for the first time since 1961. Now, in the latest step toward stronger economic ties, officials say the two countries have finalized a deal on regular commercial flights. 
2015 saw relaxed travel restrictions between the countries, as the Obama administration allowed for American travel to Cuba for "specially authorized purposes," such as for educational trips, without requiring permission from the Treasury Department, according to the Associated Press. Still, under the negotiated terms, travelers to Cuba could only take expensive charter flights, which are difficult to book.
There's still no word on when the average American will be able to book a Cuban dream vacation. But in the mean time, those approved for travel — that is, anyone who is visiting close relatives, participating in academic programs, conducting professional research, partaking in religious activities or participating in artistic performances or sports competitions — will likely be able to fly with American, Delta, United, JetBlue or Southwest, all of which have expressed interest in offering daily flights to Cuba. 
"This arrangement will continue to allow charter operations and establish scheduled air service, which will facilitate an increase in authorized travel, enhance traveler choices and promote people-to-people links between the two countries," the State Department said in a statement.