Putin Has High Praise for "Bright and Talented" Donald Trump In End of Year Address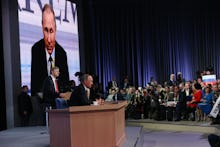 Russian president Vladimir Putin took a moment during a more than three-hour-long press conference on Thursday to wax poetic on a variety of issues, among them his desire for improved Russian-U.S. relations and a growing respect for U.S. Republican presidential frontrunner Donald Trump. 
I think Trump is a "bright and talented person," Putin said, adding that he "certainly welcomes" the possibility of working with him and his calls for improving relations between the nations, the Associated Press reported. During an October interview with CNN, Trump also offered a measure of praise for the Russian leader, saying that if elected, he "would probably get along with him very well."
But the Trump love was only the beginning.
One of the rituals of modern Russian politics has become Putin's colorful and freewheeling year-end press conference, and on Thursday the longtime Russian leader delivered. The sermon also included an admission that Russian troops were operating in the Ukraine and addressed everything from the crisis in Syria to his country's strained relations with Turkey to his belief that embattled FIFA chief Sepp Blatter should be awarded the Nobel Prize. 
Syria
Putin renewed his call for increased international efforts in the fight against global terrorism, and gave his tacit blessing to a new Saudi Arabian-led antiterrorism coalition. Putin also defended Russia's controversial airstrikes in the country, which he said would continue until the Syrian people reached a solution. He added that, long-term, he was unsure whether a permanent Russian military base would be necessary in the country.
Ukraine
Perhaps most notably, the speech marked the first time Putin admitted that Russian troops were operating in Ukraine. "We never said there were no people there who were carrying out certain tasks including in the military sphere," he said, according to Reuters. "But that does not mean there are Russian (regular) troops there, feel the difference."
Since Ukraine ousted its pro-Russian leader Viktor Yanukovych in February 2014, the country has teetered on the brink of a civil war. Weeks later, Russia seized Crimea from Ukraine as retaliation. Until Thursday, Russia had consistently denied playing a military role in the conflict, despite overwhelming evidence to the contrary.
Turkey
Putin had biting words for Syria's northwestern neighbor, Turkey, which he accused of being a U.S. puppet. "The Turks have decided to lick the Americans in a certain place," the BBC reported. 
Russia is still smarting from a decision by the Turkish air force to shoot down a Russian warplane that Turkey accused of entering its airspace near Syria. Turkey said it issued multiple warnings to the pilots before shooting down the plane, killing one of the pilots. Russia, meanwhile, has consistently denied that its plane ever ventured into Turkish territory. Putin said there was "no prospect" of a diplomatic rapprochement between the countries and warned of a "creeping Islamization" that had taken root under the leadership of President Recep Tayyip Erdogan.
Sepp Blatter
A longtime sports fan — and a scantily clad outdoorsman — Putin also used the press conference as an opportunity to offer his full-throated support for suspended FIFA chief Sepp Blatter. In October, Blatter and his top lieutenants were suspended as part of an ongoing corruption investigation. A number of other officials have already been charged with crimes. Rather than back away, Putin insisted that Blatter deserved a Nobel Prize for his work at the organization The investigations into FIFA come at a delicate time for Russia, which will host the 2018 World Cup. Putin insisted that Russia did nothing untoward in order to secure the games. 
Those with three hours to kill can watch the Russian president's full remarks below: