Bernie Sanders Just Shattered a Major Campaign Contribution Record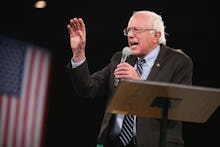 The Democratic presidential campaign of Sen. Bernie Sanders (I-Vt.) says it has now raked in more than 2 million donations, well above what any non-incumbent has raised by this point in a White House race. 
By comparison, then-Sen. Barack Obama (D-Ill.) hit 1 million donations in the winter of 2008, after the Iowa caucuses. Sanders passed the million-donation mark in September.
"What our vision of a political revolution has already accomplished is to show that we can run a strong and we believe winning campaign without a super PAC, without contributions from millionaires and billionaires," Sanders said in a statement. "We are enormously proud that we have received more individual contributions at this point in the campaign than any candidate who is not an incumbent president. As the campaign continues to succeed, we expect those numbers to grow exponentially."
With two weeks left in the year, Sanders may well best the number of donations Obama received in 2011 as he geared up for his reelection campaign, which the Sanders campaign says was 2.2 million.
Since launching an online effort on Monday to hit the 2-million-donation mark, the Sanders campaign said it has raised $3 million.
A fundraising machine: Powered by small donors attracted to his progressive populist message, Sanders' campaign has gone toe-to-toe with the financial juggernaut assembled by Democratic frontrunner Hillary Clinton. In the third quarter of the year, Sanders raised $26 million, compared with Clinton's $28 million. While contributions of $200 or less made up only 17% of Clinton's third-quarter haul, they represented 77% of Sanders' contributions. 
Still, Clinton, unlike Sanders, hasn't shunned unlimited super PAC cash. And after commanding debate performances and testimony before the House Select Committee on Benghazi, Clinton's campaign has picked up steam this quarter, so Sanders will need all the fundraising help he can get. 
New momentum? Though Clinton has moved back into a sizable national lead and appears to have the edge in the kickoff Iowa caucuses, there are glimmers of hope for the Sanders campaign, beyond its new fundraising figures. 
On Thursday, Sanders won his largest union endorsement to date, as the 700,000-member Communications Workers of America threw its weight behind the senator. Sanders still trails Clinton in union endorsements (MSNBC notes that unions representing a total of 12 million workers have endorsed her), but it represents a vote of confidence in Sanders' campaign.
And while Clinton leads in the Hawkeye State by double digits in most recent polls, the respected Iowa Poll conducted by pollster Ann Selzer's firm and released this weekend found a single-digit race there.
Sanders has another opportunity to rejuvenate his campaign this weekend, as he, Clinton and former Maryland Gov. Martin O'Malley face off in New Hampshire for the final Democratic debate of 2015.