Kehlani New Single "Did I" Lyrics, How to Listen and Where to Download Online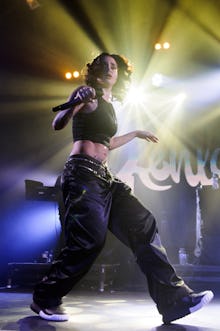 "Hurt your feelings when I stunted like that, did I?" Oakland, California, singer-songwriter Kehlani sings on a surprise new single she dropped Wednesday night on iTunes titled "Did I." The song was available for streaming via Apple Music. 
"Did I" is classic Kehlani, spitting fire verses over a rather standard snare and drum beat, along with a catchy hook. Her Facebook page announced song's release late Wednesday night:
The lyrics focus on breaking free from restraints, whether it's a relationship or something else, and becoming successful by one's own merits:
"You don't know nothing about working your way from the bottom and earning every ring / You think we competing for rings / You think you playing in my league / But you couldn't catch up if I took a break and vacationed for weeks on top of weeks."
The 20-year-old breakout R&B artist also dropped "Tore Up" earlier this month on SoundCloud, which is less of a club anthem as "Did I" and more of a slower hip-hop ballad, produced by Jahaan Sweet:
Source: Soundcloud