Rock and Roll Hall of Fame 2016 List of Inductees Announced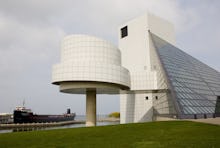 The Rock and Roll Hall of Fame announced Thursday its five 2016 inductees — Cheap Trick, Deep Purple, Chicago, Steve Miller and rap group N.W.A, according to NPR. The ceremony will be held April 8 at the Barclays Center in Brooklyn, New York, and air on HBO. Tickets to attend the ceremony can be purchased beginning in February, according to Billboard.
About five to seven artists are chosen each year by the public and an international voting body of over 600 industry players, according to the Rock and Roll Hall of Fame site. Artists qualify for induction 25 years after their first record, and must "have demonstrated unquestionable musical excellence."
This was Cheap Trick, Chicago and Miller's first time on the ballot, according to Billboard. Chicago, whose 25 of 36 albums have gone platinum album, earned the most fan votes at 23%, Cleveland.com reported. 
"So the fact that we could've gotten in or nominated years ago and we weren't forgotten, and to come up this year and now to make it, that's pretty great," Cheap Trick guitarist Rick Nielsen told Billboard on Thursday.
Miller called himself "stunned" and "baffled at how it works," according to Billboard. Miller has been eligible since 1993 so it's been a long time coming. 
Deep Purple's drummer Ian Paice thinks otherwise about his classic rock band's induction. "I knew it would probably happen one day," he told Rolling Stone. He said Chicago's win was "about time," but so many other great bands are often left forgotten.
N.W.A is just the fifth hip-hop artist to ever be inducted, the New York Times reported, following Run-DMC and the Beastie Boys. This marked the fourth time N.W.A made the ballot. Their win may have been catalyzed by their biopic Straight Outta Compton, which came out earlier this year, and may very well snag an Oscar nomination, Business Insider reported.
Those rejected were Chic, Nine Inch Nails, Chaka Khan, the Smiths and Janet Jackson, the New York Times reported. Notably, no women were chosen this year.