Teen Punches Spanish Prime Minister Mariano Rajoy in the Face During Campaign Stop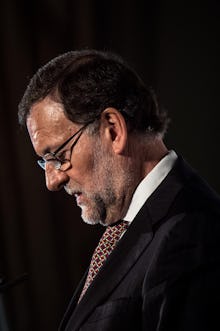 A Spanish teen decided to take his country's political matters into his own hands Wednesday night, punching Prime Minister Mariano Rajoy in the face at a campaign stop as the leader was touring the region days before he's up for re-election, according to CNN. 
"Heartfelt thanks for the displays of affection and solidarity I've received this afternoon," Rajoy tweeted following the incident Wednesday. "Let's keep working."
At first, it seemed the teen had escaped in the large crowd, ducking underneath several onlookers and heading toward an exit. However, in a video uploaded online by the Guardian, it looks as though he was caught and dragged to the ground after rocking Rajoy's face.
The teen was later arrested, police confirmed to the Guardian. 
Below is the Guardian video of the incident: