This Canadian Woman Opened Her 3-Bedroom Home to 43 of Her Syrian Refugee Relatives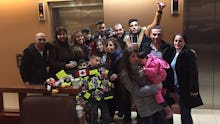 When the Syrian Civil War broke out in 2011, Toronto resident Christine Youssef's thoughts immediately turned to her family there. It was when one of her cousins was injured during an air raid on Damascus, that they finally reached out and asked for her help.
Now, with Canadian Prime Minister Justin Trudeau promising to admit a projected 25,000 Syrian refugees over the next few months, Youssef and her family are in the process of reuniting under one roof: her own. Over the next three months, Youssef will welcome 43 of her relatives into her three-bedroom home.
"To me, this is what I have to do," Youssef, 26, told Mashable. "I have no choice." In total, she and her mother have spent $250,000 sponsoring the 43 refugees, maxing out credit cards, taking out loans and remortgaging their homes in the process. On Christmas, they'll have the fullest house yet, with 24 of their relatives staying with them at once.
It's a tight squeeze, but Youssef has been making it work. She and her mother share one room, her female cousins another, three male relatives stay in the third and the rest of the family sleeps in beds set up in her living room and basement.
In the midst of her joy, Youssef is careful to keep in mind that the suffering in Syria persists. "Some people don't make it. Some people die before their applications go through. And it has nothing to do with money or with class. When you are in a war, everyone is the same. Everyone is fighting for their life."
Check out the images of Youssef and her family members below: