'Christmas and Chill': Here's How to Listen to Ariana Grande's New Holiday LP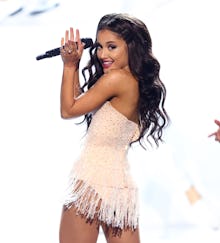 Netflix and chill is so last season now that pop princess Ariana Grande released a Christmas and Chill holiday LP. Grande has been teasing the album all week with previews and snippets of tracks on her Snapchat story and Instagram to increase the hype before dropping the album Thursday.
The six-track album includes an intro, "Winter Things," "True Love," "Wit It (Milk & Cookies)," "December," and "Not Just One For Christmas" and can be streamed on Reverb Nation here.
Grande teased previews and snippets of the songs on her Snapchat this week. Check them out below:
Dec. 17, 2:30 p.m. Eastern: This story has been updated.