Who Is Jeff Williams? Facts About Apple's New Chief Operating Officer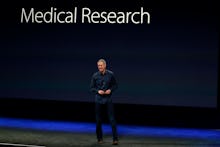 On Thursday, Apple named Jeff Williams as the firm's new chief operating officer, according to a press release from the tech giant. Apple also revealed the appointment of Johny Srouji, who is joining the company as senior vice president for Hardware Technologies. The role of COO is a position that Tim Cook vacated when he became Apple's chief executive officer in 2011, according to Recode.  
"We are fortunate to have incredible depth and breadth of talent across Apple's executive team. As we come to the end of the year, we're recognizing the contributions already being made by two key executives," Cook said in the release. "Jeff is hands-down the best operations executive I've ever worked with, and Johny's team delivers world-class silicon designs which enable new innovations in our products year after year."
Who is Jeff Williams? William's isn't new to Apple. The exec's tenure at Apple dates back to 1988, when Williams joined the firm as head of worldwide procurement, according to the company's press release. Williams stayed in that role for five years, before he was named vice president of Operations. Williams was also directing the tech giant's social responsibility projects, according to the Reuters.
During his time at Apple, Williams has steadily moved his way up the ladder while helping the tech firm to master supply chain matters along the way. In recent years, Apple's been trotting Williams out on stage more frequently alongside its most visible, top-tier talent. According to the Verge, William's upward trajectory over the years has generated some degree of speculation on whether or not the now-COO will one day be up for Cook's job when Apple's chief retires. 
Here's a video of Williams being interviewed on stage by Recode in May, in which the executive fields questions about Apple's roadmap and hints that "the car is the ultimate mobile device."