Watch the Trailer for Tina Fey's New War Comedy 'Whiskey Tango Foxtrot'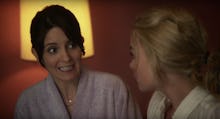 Tina Fey's newest film, Sisters, hits theaters this weekend, but she's got another movie coming down the pipeline. Thursday morning, Paramount Pictures released the first trailer for Whiskey Tango Foxtrot, a war comedy starring Fey as an international journalist sent to cover affairs in the Middle East.
The film is set in Kabul, though one of the prime Afghani characters is played by white actor Alfred Molina. Rounding out the cast is Wolf of Wall Street star Margot Robbie (second-billed, indicating this may be something of a buddy comedy), Sherlock's Martin Freeman and Oscar-winner Billy Bob Thornton.
Fey plays Kim Barker, a real-life journalist who wrote the source material for the film, a book called The Taliban Shuffle: Strange Days in Afghanistan and Pakistan. According to Fey, Whiskey Tango Foxtrot, titled such because that's the military code for "WTF," focuses less on the actual fighting and more on war journalists' experiences.
"The movie itself is about journalism people working in Afghanistan and the insane lifestyle that they lead there, so it's not at all about the war or politics," Fey told Entertainment Tonight. "Anyone who's ever worked there goes, 'It's crazy there.'"
As with much of Fey's work, Whiskey Tango Foxtrot seems to at least partially deal with gender, if the trailer is any indication. Fey and Robbie's working friendship looks like the film's core relationship, though Robbie's character judges Fey's immediately by comparing their physical appearance.
At the end of the trailer, Fey and screenwriter Robert Carlock, her partner on 30 Rock and Unbreakable Kimmy Schmidt, even include a women driving joke.
Carlock and Fey are clearly capable of great things, but this trailer is worrisome. Casting a white actor to play a nonwhite role is always a red flag, and the jokes aren't up to 30 Rock's caliber — or even that of Sisters. Hopefully the trailer is hiding the best parts of the final film, but this one looks like a WTF indeed.
Whiskey Tango Foxtrot hits theaters March 4, 2016. Watch the full trailer below.