Pope Francis' Birthday 2015: 21 Quotes to Celebrate Pontiff's 79th Year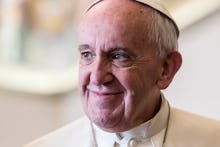 Happy 79th birthday, Pope Francis. The progressive pontiff has had quite the year, traveling internationally not only to meet with world leaders while reshaping the cultural ideologies behind the Catholic church, but also spreading his messages of inclusion, diversity and aid to those in need. Below is a roundup of some of Pope Francis' most profound, thought-provoking quotes, via the United States Conference of Catholic Bishops.
His speeches have been some of the most highly watched, with supporters hailing him as one of the greatest pope's in the religion's history. Critics, however, have often bashed him for what they say are his liberal views. Regardless of opinion, his words will go down in history — not to mention his voice will be heard long after his time as pope, thanks to an album he released in November, titled Wake Up!
1. "To protect creation, to protect every man and every woman, to look upon them with tenderness and love, is to open up a horizon of hope; it is to let a shaft of light break through the heavy clouds; it is to bring the warmth of hope!" 
2. "I urgently appeal ... for a new dialogue about how we are shaping the future of our planet. We need a conversation which includes everyone, since the environmental challenge we are undergoing, and its human roots, concern and affect us all."
3. "What kind of world do we want to leave to those who come after us, to children who are now growing up?"
4. "'God is love.' His is not a sentimental, emotional kind of love but the love of the Father who is the origin of all life, the love of the Son who dies on the Cross and is raised, the love of the Spirit who renews human beings and the world. Thinking that God is love does us so much good, because it teaches us to love, to give ourselves to others as Jesus gave himself to us and walks with us. Jesus walks beside us on the road through life."
5. "But you too, help one another: help one another always. One another. In this way, by helping one another, we will do some good."
6. "We need to communicate with each other, to discover the gifts of each person, to promote that which unites us and to regard our differences as an opportunity to grow in mutual respect."
7. "Our faith in Christ, who became poor, and was always close to the poor and the outcast, is the basis of our concern for the integral development of society's most neglected members."
8. "Our immense technological development has not been accompanied by a development in human responsibility, values and conscience."
9. "Mr. President, the efforts which were recently made to mend broken relationships and to open new doors to cooperation within our human family represent positive steps along the path of reconciliation, justice and freedom. I would like all men and women of good will in this great nation to support the efforts of the international community, to protect the vulnerable in our world and to stimulate integral and inclusive models of development, so that our brothers and sisters everywhere may know the blessings of peace and prosperity which God wills for all his children."
10. "I encourage the financial experts and the political leaders of your countries to consider the words of Saint John Chrysostom: 'Not to share one's goods with the poor is to rob them and to deprive them of life. It is not our goods that we possess, but theirs.'"
11. "The family remains the basic unit of society and the first school in which children learn the human, spiritual and moral values which enable them to be a beacon of goodness, integrity and justice in our communities."
12. "Local individuals and groups can make a real difference. They are able to instill a greater sense of responsibility, a strong sense of community, a readiness to protect others, a spirit of creativity and a deep love for the land."
13. "This culture of waste has made us insensitive even to the waste and disposal of food, which is even more despicable when all over the world, unfortunately, many individuals and families are suffering from hunger and malnutrition."
14. "Even the weakest and most vulnerable, the sick, the old, the unborn and the poor, are masterpieces of God's creation, made in his own image, destined to live forever, and deserving of the utmost reverence and respect."
15. "The death penalty is contrary to the meaning of humanitas and to divine mercy, which must be models for human justice."
16. "Solidarity with migrants and refugees must be accompanied by the courage and creativity necessary to develop, on a world-wide level, a more just and equitable financial and economic order, as well as an increasing commitment to peace, the indispensable condition for all authentic progress."
17. "This morning I celebrated Holy Mass with several soldiers and with the parents of some of those who died in the missions for peace, who seek to further reconciliation and peace in countries in which so much fraternal blood is spilled in wars that are always madness. 'Everything is lost in war. Everything is gained with peace.'"
18. "How much suffering, how much devastation, how much pain has the use of arms carried in its wake."
19. "War never again! Never again war!"
20. "I am deeply convinced that violence can never bring peace and wellbeing to a country, because it creates — always and only — violence."
21. "The joy of the Gospel is for all people: No one can be excluded."