Adele in New York City: Dates and How to Buy Tickets for Madison Square Garden Concerts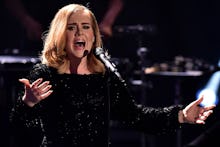 Fresh off the release of her album 25, pop star Adele is getting ready for a North American tour in 2016. She will kick off her tour with two shows in St. Paul, Minnesota, in July and then make her way to the West Coast before arriving in New York City in September for six shows at Madison Square Garden.
The dates for Adele's New York performances are Sept. 19, 20, 22, 23, 25 and 26. Tickets for the shows went on sale Thursday morning, according to the Madison Square Garden's website, ranging in price from $39.95 to $149.95.
In addition to her upcoming North American tour, Adele also announced a European tour that will begin in early 2016. The news about Adele's North American tour ends months of speculation about whether she would tour in the U.S. following the release of 25.
Adele's first single off 25, "Hello," broke records after its October release: It became the first single to sell 1 million downloads in a one-week period.
Tickets for Adele's upcoming tours, including her six shows at Madison Square Garden, are on sale on her website and on Ticketmaster.com. Since they went on sale on Thursday morning, Twitter has, predictably, been freaking out: