S.C. Parents Protest Charges Against 16-Year-Old Girl Assaulted by School Security Officer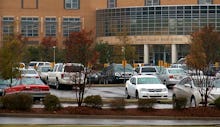 A group of parents in South Carolina called for misdemeanor charges to be dropped Thursday against a 16-year-old black girl who was assaulted by a Columbia high school security officer in October.
The Richland 2 Black Parents Association — which formed in 2012 in response to concerns about unfair disciplining of black students — has collected "hundreds of thousands" of signatures in support of having officials drop the "disturbing schools" charge against the girl, according to the Associated Press.
On Oct. 26, video surfaced online of Spring Valley High School resource Officer Ben Fields grabbing the unnamed child as she sat at her desk, slamming her to the floor and dragging her across the classroom as fellow students and a school administrator looked on. Officer Fields was reportedly responding to allegations that the girl did not leave the classroom when her math teacher told her to do so. 
Charges were filed against her soon after. Here is a video of the incident.
The same "disturbing schools" charge was filed against an 18-year-old student who filmed the assault. According to the AP, the accompanying punishment is a fine of up to $1,000, or 90 days in jail. Richland County Solicitor Dan Johnson said in a statement Wednesday he would not take any action on the case until the FBI completes an investigation into the incident.
"I do not simply decide cases based upon feelings, public opinion or sentiment, nor do I decide them based on political pressure," Johnson said, according to the AP.
The Richland 2 parents plan to protest outside Johnson's office Thursday afternoon. Officer Fields was fired after the above video went public in the fall, shortly before federal investigators announced they would launch a criminal investigation.
None of this alters the systemic challenges faced by black students in America's public schools to begin with, however. Many revolve around how discipline is applied. According to a study published by the University of Pennsylvania this year, South Carolina in particular has a jarringly disproportionate suspension rate for black youth, who make up 36% of public school students but account for 60% of students suspended.
Black girls especially face disparities in schools that rarely get discussed. A recent report from Columbia University and the African American Policy Forum found black girls nationwide are six times more likely to be suspended from school than their white peers.
The Richland 2 Black Parents Association did not respond to Mic's request for comment.