How to Play Google's 'Star Wars' Lightsaber Escape Game Using Your Computer and Smartphone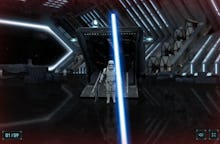 In what may be the techiest and admittedly coolest Star Wars: The Force Awakens marketing tactic leading up to the film's Friday release, the Google-powered Lightsaber Escape lets people fight off Stormtroopers on their computer using their phone as a Jedi lightsaber.
The experience, launched Tuesday, is a collaboration between Google Chrome, Disney, Lucasfilm and Unit 9. The technology wirelessly syncs your phone and computer to launch an instant Star Wars video game — the phone is your lightsaber and the computer screen is where all the action happens. 
Here's how it works: When users visit this link on their computer, they'll be prompted to visit a unique link on their phone that'll connect the two devices. 
Once they load the link on their phone, it'll take them through a few easy to follow step-by-step directions that eventually leaves them fighting off an army of Stormtroopers with a lightsaber on their computer screen using their phone as the remote control. 
Completing the task is not as simple. Stormtroopers armies attack at full force and are proven a true match for a single Jedi lightsaber in this game. Thankfully, users can keep giving it a go with no consequences aside from boredom.
The seventh episode of the cult classic film series received glowing reviews from critics after Monday's world premiere in Los Angeles and impressive early ratings on Rotten Tomatoes and IMDb. Tickets have been sold out at a number of theaters for weeks, but the Star Wars official website provides links for where to get tickets to both 2D and IMAX viewings internationally.