'Fuller House' Teaser Released: Info on Plot, Cast and 2016 Release Date on Netflix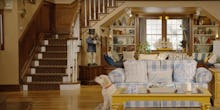 The spinoff of hit series Full House, strategically named Fuller House, released its teaser Thursday. The rebooted show will premiere 13 episodes on Netflix on Feb. 26, according to the teaser video. The show has a similar plotline to the original show, as it follows Candace Cameron Bure as the now-widowed veterinarian D.J. Tanner-Fuller, a mother of three boys, according to E! Online. Andrea Barber plays her childhood friend and neighbor Kimmy Gibbler, and Jodie Sweetin also stars as Bure's sister and aspiring musician Stephanie Tanner. In the original series, father of three daughters Danny Tanner, played by Bob Saget, was a widower. 
New cast members include Soni Nicole Bringas, Michael Champion and Elias Harger as Kimmy's and D.J.'s children. Although the Olsen twins won't be returning, audiences can expect revived guest appearances from some of the original cast, including Saget, John Stamos (Uncle Jesse), Lori Loughlin (Becky) and Dave Coulier (Joey Gladstone), according to E! Online. 
"As big fans of the original Full House, we are thrilled to be able to introduce Fuller House's new narrative to existing fans worldwide, who grew up on the original, as well as a new generation of global viewers that have grown up with the Tanners in syndication," Cindy Holland, vice president of original content for Netflix, said in a statement in April.
The teaser depicts the well-known house from the original series and just the voices from the returning and new characters. For those who remember family dog Comet, a new puppy is also shown. 
According to Stamos, who's also a producer of the new series, Fuller House will kick off with a one-hour reunion.
The original series debuted in 1987 and ran for eight seasons — 192 episodes — until 1995.
The teaser for Fuller House is below: