Bernie Sanders Wins Two Huge Endorsements From Major Progressive Groups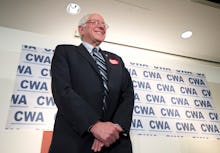 Sen. Bernie Sanders (I-Vt.) added progressive heft to his insurgent campaign for the Democratic presidential nomination Thursday, winning endorsements from two major liberal groups.
The 700,000-member Communications Workers of America union backed Sanders over frontrunner Hillary Clinton following a binding member vote, the union announced Thursday morning. 
"Our politics and economy have favored Wall Street, the wealthy and powerful for too long," CWA president Chris Shelton said in a statement. "CWA members, like voters across America, are saying we can no longer afford business as usual. Bernie has called for a political revolution — and that is just what Americans need today."
The CWA is by far the largest national union to endorse Sanders, who has also won the backing of the 200,000-member American Postal Workers Union and the 185,000-member National Nurses United. Another labor-focused group, the Working Families Party, endorsed Sanders last week. 
Hours after the CWA rolled out its endorsement, Democracy for America, a progressive advocacy group that claims 1 million members, announced that it too would back Sanders. The Wall Street Journal reports that the endorsement comes after 88% of DFA members to vote in an online poll backed Sanders, compared with 10% for Clinton and 1% for former Maryland Gov. Martin O'Malley.
Ironically, DFA was founded by former Vermont Gov. and 2004 Democratic presidential hopeful Howard Dean, who has endorsed Clinton. 
"It is no secret that the founder of DFA — my friend and fellow Vermonter former Gov. Howard Dean — has chosen not to support my candidacy," Sanders said in a statement. "Yet the leadership of DFA allowed a fair and free vote to take place which we won. That's pretty impressive."
While Dean's support for Clinton couldn't sway DFA members, it's unsurprising that the group is endorsing Sanders. In a sign that DFA was unsatisfied with Clinton's record on Wall Street and economic inequality, last year the group joined the unsuccessful effort to draft Sen. Elizabeth Warren (D-Mass.) into the presidential race.
While Warren has yet to get behind a candidate — and has offered warm words for both Clinton and Sanders — Sanders' recent string of endorsements is a sign he's inherited many of Warren's erstwhile backers. The Working Families Party had also wanted Warren to run for president.
For Sanders, the endorsements deliver a crucial jolt of energy amid Clinton's resurgence since the fall. With the final Democratic debate of 2015 taking place Saturday in Manchester, New Hampshire, all eyes will be on the Granite State to see if Sanders can flip the narrative of the campaign.