Daisy Ridley, 'Star Wars' Actress, on Her Role as Lead Heroine Rey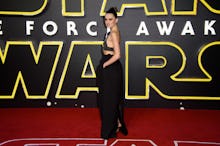 The latest, seventh installment of Star Wars, the highly anticipated Star Wars: The Force Awakens, hits U.S. theaters Friday, in which actress Daisy Ridley makes her debut in a big film as its lead heroine Rey. In fact, it's Ridley's first movie ever, according to Elle. Before her role in Star Wars, Ridley mainly starred in small British television shows, like Mr. Selfridge, according to IMDb. 
Rey as a role model: In some ways, Rey could be considered a role model for young girls, Ridley told Elle in November. "[Rey is] so strong," Ridley said. "She's cool and smart and she can look after herself. Young girls can look at her and know that they can wear trousers if they want to. That they don't have to show off their bodies."
According to Ridley in a November interview with Hollywood Reporter, Rey is not another Princess Leia, who famously sported a gold bikini in Return of the Jedi.  
Read more: 
The new Star Wars film has been gaining positive traction for its emphasis on a stronger female presence. The movie apparently passed the Bechdel Test, which measures how women are portrayed in a film based on how often they talk about men, according to Time.
Who is Rey? Abandoned at the age of 5, Rey grew up a scavenger on the planet Jakku, according to USA Today. She runs into Finn, played by John Boyega, and the two fight the oppressive First Order, according to IMDb. 
Rey isn't a superhero, Ridley told the Hollywood Reporter, saying, "She's a normal girl thrust into extraordinary circumstances, so it's very relatable."
Over the course of seven months, 23-year-old Ridley did about five auditions, according to Hollywood Reporter. Once she had the role, Ridley trained for five hours — one hour of fitness and four hours of stunt work — for three months.
Ridley told Variety that she took cues in shaping Rey as a character from Star Wars veteran Harrison Ford. Off set, Ford has been giving Ridley tips on how to deal with the huge wave of fame that's about to come, BBC reported. 
Other than beginning filming for Star Wars VIII in January, Ridley will also be taking social science classes to possibly pursue a career in psychology or counseling, she told Hollywood Reporter.