Supermodel Bar Refaeli Arrested on Suspicion of Tax Evasion — Here's What We Know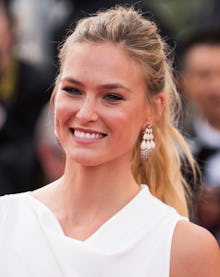 Israeli supermodel Bar Refaeli and her mother were arrested Wednesday afternoon on suspicion of tax evasion after their home was raided by authorities. Both women were released on bail Thursday and had their passports confiscated, according to the New York Daily News. 
The 30-year-old model, who has appeared on several magazine covers including Sports Illustrated and was previously dating actor Leonardo DiCaprio before marrying Adi Ezra in September, was reportedly given luxury cars in order to have her photo taken in them, a gift which would have to be taxed in Israel and most countries.
According to the Agence France-Presse, Refaeli has been avoiding paying the full extent of her taxes in Israel in reportedly inconspicuous ways, including telling authorities she lived with her mom while renting out luxury apartments under family members' names. "An undercover investigation revealed a contract between Refaeli and the management of a luxury complex in Tel Aviv, according to which gossip columns would receive 'leaks' regarding her residency there to promote it," the AFP reported Thursday. 
What's worse, Refaeli now seems to have a history of running from — or at the very least, avoiding — the law. According to AFP,  Refaeli avoided serving Israel's required two years of military service by marrying her father's friend for a short period before divorcing him and dating DiCaprio. 
In addition to the alleged tax evasion, the AFP reported Refaeli was also accused of being handed upward of $250,000 as "benefits," which she failed to report to Israel's tax authority over the years.