Here's What You Can Buy With the Cost of Funding a Big Wedding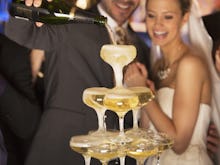 If you're looking to have a big wedding these days, it will cost you. $31,213, to be exact.
That's the average, courtesy of the Knot, which released its 2014 Real Weddings Study earlier this year. That price tag has spiked since 2013, according to the Knot, when exchanging vows went for a mere $29,858. And that's not even counting the honeymoon. 
Footing the bill for the standard 136 guests can leave many people wishing they'd invested a nest egg in the stock market before getting hitched. The list of must-haves to nail for that perfect, Instagram-worthy wedding keeps expanding: calligraphy place cards (up to $2 a name), a videographer good enough to give you YouTube hits ($1,678 a pop) and the elusive flattering, contemporary-yet-vintage wedding dress (up to $3,027, without seamstress fees). 
The cost of having a traditional wedding seems particularly egregious when you consider that having a big, expensive wedding might not even be good for your marriage: As a 2014 study pointed out, splurging on your wedding is correlated with a higher chance of divorce. So why not eschew the materialistic rituals of love and just head down to the courthouse to declare your lifelong commitment? 
For those who are interested in tying the knot, but want to keep their wedding low-key, here's how far that $31,213 will take you when you spend it elsewhere.
For $31,213, you could buy a 3-bedroom house.
It's not an easy task picking a venue for your wedding — it should be something that really reflects you as a couple, has an open slot around the time you want to get married and somehow accommodate all of your great aunts. Before you start dreaming up your fantasy barn nuptials or dare to attempt to book the George Peabody Library, consider the fact that you could swap the roof over your vows for a long-term roof.
$31,213 is enough to buy an entire house in some of America's most affordable cities (and a down payment in some of the more expensive ones). Take, for example, this three-bedroom single-family charmer in Birmingham, Alabama going for $29,900. Or this 3-bedroom in Memphis, Tennessee selling for $30,000.
For $31,213, you could get an entire year of higher education.
Instead of spending hundreds or thousands of dollars on the perfect ecru invitations, spend your money on a different kind of paper: a spiral notebook. $31,213 will cover one whole year of tuition and fees at a public four-year college, which costs an average of $23,893, according to the College Board's Annual Survey of Colleges. In fact, the cost of a wedding will almost cover room and board while you're at school too. Put down the save-the-date and get that engineering degree.
For $31,213, you could buy 2,094 pairs of underwear.
Even if you're not forcing your bridal party to don fuschia, teal and lavender taffeta monstrosities, you've probably spent months searching for that perfect white dress. You could convince yourself that the ivory twill lace princess dress will make you feel like a million bucks, but you'll also probab;y find it hard to spend so much money on an item of clothing you will never wear again. Literally, never.
Why not fork over the $31,213 for one of the most essential pieces of your wardrobe? For that lump sum, you can buy 2,094 pairs of underwear from Pants to Poverty at £10.00 each ($14.90 USD). That will last you five years and 269 days. The best part is that for every pair of underwear you buy, the company donates a pair to a farmer or factory worker in India who needs it and ensures they make a living wage. Think of all the laundry you won't have to do.
For $31,213, you could go out to the bar for 1,300 nights. 
As tempting as it might be to watch your cousin's plus-one Gary polish off a bottle of Dom Pérignon at your wedding, instead you could be spending all that cash on your own nights of revelry.
If you were to get three drinks per night at roughly $8 each (a solid buzz), $31,213 would float you for about 1,300 nights out. And going out on dates with your S.O. is more likely to help sustain your marriage than watching Aunt Barbara hit on a caterer after too many gin and tonics. 
For $31,213, you could travel around the entire world. With your partner and five friends.
Sure, a destination wedding in Maui sounds great in theory, but you'll be so busy making sure the centerpieces are in place, the dress is steamed and that Grandma got the room closest to the banquet hall that you'll barely have time to enjoy the culture, sun rays and vast beaches. (And p.s. all of your guests will straight-up resent you for making them spend money on airfare and take vacation days off work.)
So you should probably use that whopping $31,213 on traveling around the entire world. While prices vary based on destination and time of year, AirTreks estimates that around-the-world tickets cost $5,000 on the high end. So you could totally stop over in Italy, take a jaunt in Turkey, head over to Thailand, and yes, make your way towards Maui. With the cash you will save, you can treat your significant other and five of your closest friends.
And if you're not a jet-setting, around-the-world kind of person, you could take an annual two-week vacation to Paris, France (flying out of New York City) with your significant other for the next 16 years at the price of a $938 round trip ticket. Très bien.
For $31,213, you could get a subscription fresh food service for 625 weeks.
Instead of spending weeks surviving off stale wedding cake sheets, you can get a curated selection of heirloom vegetables, fresh fruits, pasture raised meats, fresh fish and farmstead cheese delivered to your home for $49.90 a week with subscription services like Quinciple. Which means two farm-fresh, home-cooked meals for you and your honey for 625 weeks straight. Plus, by using subscriptions services like Blue Apron, Plated and Sweet Roots NYC, you're simultaneously supporting small scale farms while getting a delicious meal you might have been too lazy to go shop for.
For $31,213, you could attend 38 Adele concerts with your significant other.
Whether or not you go with a DJ or a live band, somehow, at some point, Kool and the Gang's "Celebration" will come on. This isn't a matter of taste — it's just an inevitability.
Skip the shitty covers of disco classics and have a once-in-a-lifetime musical experience at least 38 times in your life right next to your partner. With tickets for an Adele concert going for $401 for the 11th row at Madison Square Garden, your significant other and you could afford to listen to a life-affirming, incendiary, live rendition of "Hello" for the next 38 years.
See? The courthouse keeps looking better and better.