Yeezy Boost 750: Price and List of Stores Selling Adidas' and Kanye West's Black Colorways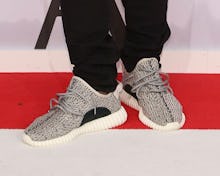 The day has finally come when non-celebrity humans can track down a pair of Adidas' Yeezy 750 Boosts, available in matte black, beginning Saturday. Kanye West fans and sneakerheads alike have been awaiting the moment they'd be able to purchase the latest edition of the West-Adidas collaboration, as the rap star and potential 2020 presidential candidate has been seen wearing them while stepping out on multiple occasions.
A number of retail locations will have the Boosts on sale Saturday, though it seems they're planning to give away quite a few through raffles, according to GQ. At least 13 Foot Locker stores will be selling the latest pair of Yeezy 750 Boost black colorways, as well as having in-store raffles for customers visiting those locations on Saturday. 
According to Sneaker News, the newest edition to the Adidas-West Yeezy Boost collaboration will cost $350 at starting price. However, it's unclear if some stores will feature varying prices on the shoes — and by the time they make their way on sites like Amazon and eBay, they'll surely cost quite a bit more.
Below is every store across the United States selling the latest Yeezy Boosts, via GQ:
Note: If cities are listed after a retail outlet, those are the only locations selling the latest sneakers.
Foot Locker - Atlanta, Garden City, New York; Los Angeles, Tigard, Oregon; Costa Mesa, California; Houston, North Riverside, Illinois; Chicago, Miami, New York, Orlando, Wayne, New Jersey; and Brooklyn, with in-store raffles being held on Saturday.
Adidas - via the Adidas app, though reservations have since closed. 
Finish Line - online
Bait - San Francisco, Diamond Bar, California; Orange County, California; Los Angeles and Seattle. 
Barney's - Chicago
Expressions
Concepts - Boston, Cambridge, Massachusetts; featuring an in-store raffle at the Cambridge location. 
Champs - Atlanta, San Francisco, Las Vegas, San Antonio, Santa Monica, California; Tukwila, Washington; Schaumburg, Illinois; Norridge, Illinois; Arlington, Washington; Mesquite, Texas; New York, Paramus, New Jersey; Wauwatosa, Wisconsin; Metairie, Louisiana; Miami, Pembroke Pines, Florida; Aventura, Florida; Sunrise, Florida; Wayne, Michigan; Orlando, St. Louis, Kennesaw, Georgia; and Boston. 
WEST
Footaction - Paramus, Chicago, Harper Woods, Kenner, Miami, Newark, New York, Plantation, White Hall and Morrow.
Sneaker Villa - Bloomington, Chicago, Dallas, Cleveland, and Philadelphia — the chain also has an online raffle.
The Darkside Initiative 
ONENESS
Bows and Arrows
GOT SOLE
Feature Las Vegas
Social Status - Charlotte and Pittsburgh
Shoe Palace
NEO 39
PacSun - Columbus, Elmhert and Glendale.
UNDFTD - Los Angeles, Las Vegas, San Francisco and Silverlake.
Sneaker Junkies
BLENDS - Los Angeles, Beverly Hills and Costa Mesa.
Eblens
Kicks Sole Provider
Shiehk Shoes
Extra Butter — with an in-store raffle at the New York location.
Packer Shoes, Inc.
Private
Proper
Jimmy Jazz
St. Alfred
SUCCEZZ
UNHEARD OF 
RSVP Gallery
Politics Lafayette 
LEADERS
Sneaker Politics
Burn Rubber
CLICKS
ROCK CITY KICKS 
SOLE CLASSIC
SOLES INC
NEXT/XHIBITION 
SIMONS
Social Status
Cream
Major
COMMONWEALTH 
COOL JS
Addict
DRIP - Antenna
Dover Street Market NY 
Ubiq
The Vault
KITH - Manhattan and Brooklyn 
Wish ATL
Walters
BBC - Billionaire Boys Club
Epitome
LACE UP
Athleisure DBA Walk in Closet 
Social Status
Harlem Sneaker Train