Web Series Has 'Home Alone' Actor Macaulay Culkin Play a Grown-up Kevin McCallister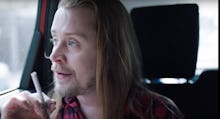 More than 15 years after Macaulay Culkin starred in Home Alone as 8-year-old Kevin McCallister, the young boy whose family abandoned him at home during Christmas vacation, unintentionally leaving him to fight off a pair of robbers all by himself, Culkin guest-starred as grown-up Kevin in a mini web series — and it looks like the poor kid carried the childhood trauma into adulthood. 
Culkin appeared as McCallister on the first episode of the Jack Dishel web series :DRYVRS, about the weird drivers Dishel encounters as a passenger of ride-sharing services — and McCallister is one of them. When Dishel hops into McCallister's car, he starts complaining about his marriage and that he doesn't know how to drive. When Dishel rightfully takes the wheel, McCallister starts venting to him about his family's unforgivable mistake back in 1990.
"How 'bout this," McCallister said. "It's Christmas time. It's fucking Christmas. And your whole family goes on vacation. Whole family. And they forget their 8-year-old son. Eight-year-old fucking son." 
"I had to fend off my house from two psychopath home invaders," he added, admitting that he still has nightmares about it.
The episode escalates when a man pulls a gun on them in the car, inspiring McCallister to tie up the filthy animal in a basement and show him who's boss. Little did that guy know he was messing with the dude who defeated two psychotic robbers when he was 8 years old. 
Watch the five-minute episode below: