Enrique Marquez, Former Neighbor of San Bernardino Shooters, Arrested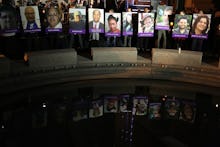 A former neighbor of the Dec. 2 San Bernardino, California, shooters was arrested Thursday, the Los Angeles Times reported. The suspect, Enrique Marquez, is believed to have purchased assault weapons that Syed Rizwan Farook and his wife Tashfeen Malik used in the deadly rampage at the Inland Regional Center. The attack left 14 dead and wounded at least 21 more. Both attackers were killed shortly after the attacks, which President Barack Obama called "an act of terrorism, designed to kill innocent people."
Marquez, 24, is a longtime neighbor of Farook.  
According to a statement by the U.S. Attorney's Office, Marquez was introduced to Islam by Farook and converted in 2007. Farook later introduced Marquez to radical ideology, according to the affidavit. Marquez admitted to procuring firearms on behalf of the attackers because "his appearance was Caucasian, while Farook looked Middle-Eastern," according to the press release. 
 "Mr. Marquez conspired with Mr. Farook to commit vicious attacks, as set forth in today's charges," United States Attorney Eileen M. Decker said, according to the press release. "Even though these plans were not carried out, Mr. Marquez's criminal conduct deeply affected San Bernardino County, Southern California and the entire United States when the guns purchased by Marquez were used to kill 14 innocent people and wound many others." 
Officials said Marquez also entered into a "sham" marriage with a member of Farook's extended family so she could become a U.S. citizen. Marquez has been charged with conspiring to commit acts of terrorism, unlawful purchase of assault rifles and immigration fraud, according to the release. He faces 35 years in prison. 
Dec. 17, 2015, 6:40 p.m. Eastern: This story has been updated to include statements from the U.S. Attorney's Office in Los Angeles.