The Offspring Are Releasing a New Album — Here's Everything We Know so Far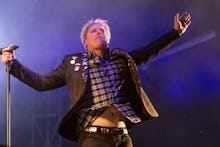 Here's some '90s nostalgia: Grunge-era punk band the Offspring are expected to release a new LP in 2016. An eleventh studio album from "Pretty Fly (For a White Guy)" auteurs Dexter Holland, Kevin "Noodles" Wasserman, Greg K. and Pete Parada is rumored to be on the way, although a date hasn't yet been set. Speaking to the Aspen Times in July, lead guitarist Wasserman said that new material was in the works, and that fans could expect it in the coming year.
"We want to do a record, that's the plan," Wasserman told the Aspen Times. "But it's taking forever." 
He added the band released the single "Coming for You," because it was ready and they didn't want to miss their moment. "We released this song because we felt good about it immediately," said Wasserman. "It was one of the first one or two songs we finished, so we were like, 'If we wait on this it might be another year, year-and-a-half. Why don't we just put it out and see what happens?'"
"Coming for You" was the first new song from the band since 2012's Days Go By and, the Aspen Times says, consistent with their habit of spontaneously releasing standalone singles. That spontaneity is what makes it so hard to predict when the album might drop.
"As much as anyone wants to have or says they have a game plan, I don't think doing anything creatively really works that way," frontman Holland reportedly said of the studio process. "You can kinda have a general direction, or thinking where you want to go when you start but it always takes on a life of its own."
The band will be touring internationally this spring and summer.