Russian Tourist Agency Now Offering Trips to War-Torn Syria Because "People Are Curious"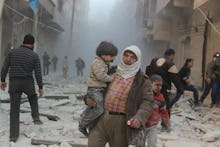 Start packing the minivan! Come January, Russian tourist agency Megapolis Travel will offer vacation getaways to the Syrian Civil War front line. Never mind the hundreds of thousands dead and millions displaced — Megapolis thinks basic human curiosity will prevail. 
"People are curious to see the history made in front of them," said Anatoly Aronov, head of First Patent Company. He's responsible for filing Megapolis's trademark for the tour, to be called "Assad Tours" after Syrian president Bashar al-Assad. 
"We will be 1 kilometer away from the front at the very closest," Aronov told the Daily Mail. "But not any closer. It's safe. On no occasion will we be giving weapons to tourists." Upon their arrival, tourists will check into a hotel in Damascus. From there, Aronov will "phone up a Syrian with a car" who can drive them around to see the sights — all for a lean $1,500. 
Sounds legit, right?
The Russian Federal Tourism Agency said not so fast. According to CNN,  Izo Arakhamiya, head of the federal agency's legal department, said, "There is no Assad Tour in the register and they haven't filed an application. Therefore they are not authorized to sell these trips." 
Nonetheless, Aronov seems intent on moving forward with the business venture. He even has his demographic nailed down: "I think these are men, first of all, aged 30-45 years old, educated, intelligent, perhaps, traders, or commercial directors. They are curious about new impressions, new 'hot spots,'" he told the Mail. 
But the Average Crazy Joe will do just fine too. Aronov continued, "All tourists are crazy — they are paying money for things they can see free on television."