Twin Girls Who Are Legally Blind Adopt Disabled Dog for Christmas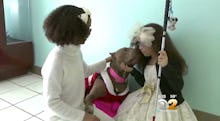 Christmas came early for two New Jersey girls. Ten-year-old twins Tianna and Gianna Johnson are both legally blind, and for the holidays this year, the girls told their mom Dana Polito-Corry that all they wanted was to adopt a disabled dog, CBS New York reported.
On Tuesday their wish came true, and they brought home a loving rescue pit bull named Carmela, whose front legs are permanently bent inwards from being kept in a crate before being rescued.
The twins know what it's like to be different: Tianna walks with a cane because of her vision impairment, so they wanted a dog who shared that with them: "I'm very different in school. I'm the only one who walks with a cane," Tianna told CBS, "and I wondered if I got a disabled dog, she would know the same feeling."
Only a day after the girls told their mom about their special Christmas wish, Polito-Corry was dropping off one of the family's other dogs at a local groomer when she saw Carmela for the first time. Carmela was being fostered by the owner of the doggie salon.
She had been waiting for "about a year" for a family to adopt her, reports CBS, but until Polito-Corry, no one had shown any interest in the dog.
As soon as Polito-Corry saw Carmela, she knew that this could be the answer to her daughters' Christmas wish. Tianna told CBS that dogs with special needs are just as deserving of homes as any other pets.  "They're not much different," she said. "They're just best friends forever."