Donald Trump Says Muslim Friends Have "Thanked" Him for Speaking up About Radicalism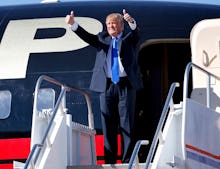 Donald Trump has Muslim friends, so don't try to tell him he's a racist. During his Wednesday appearance on Jimmy Kimmel Live, he defended his recent call to prohibit Muslims from entering the United States as a means of preventing terrorist attacks, adding that his multitudes of Muslims friends largely agreed with his plan.
"I actually have many, many friends who are Muslim, and they're great people, and they actually — some of them, not all of them; I will tell you, some of them are not so thrilled with what I said, but many of them called me and said, 'You know, Donald, you're right: we have a problem. There is a problem.'"
On Dec. 7, Trump told his supporters that America needed "a total and complete shutdown of Muslims" entering the U.S., remarks the White House later said should disqualify him from the presidential race. Despite an outpouring of criticism from the left, Trump's polling numbers ballooned. 
When Trump told CNN's Jake Tapper basically the same thing he told Kimmel, Tapper pushed back, "They support a ban on Muslims entering the U.S.?"
"No, they said it's about time that somebody spoke up to radicalism," Trump said. "You have radicalism in this country. It's here, and it's trying to come through." 
Get the five stories that will challenge you to rethink the world by signing up for MicCheck Daily.