Meet David Muir, ABC's Democratic Debate Moderator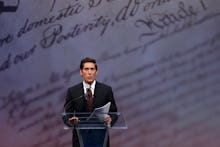 Saturday's Democratic debate moderator will be David Muir, host of ABC World News Tonight with David Muir and co-host of 20/20. Here's a brief introduction to the Emmy-winning anchor:
Muir came to ABC in 2003, according to his network profile. He has covered Hurricane Katrina, the 2010 Winter Olympics and the 2008 Summer Olympics during that time. He also reported on the Sichuan Province in China after the 2008 earthquake, went to the border between Israel and Lebanon in 2006 and covered both the Gaza Strip and the Peruvian earthquake in 2007. 
He was a part of ABC's Vote 2008 team, hitting all the key states over the course of the campaign. In 2010, he covered both the BP oil spill from the Gulf and the Haitian earthquake. He has also reported from Tahir Square in Egypt, Fukushima in Japan, Aurora, Colorado following the mass shooting at a movie theater, Tehran during nuclear negotiations and Syria, where he focused on juvenile refugees. 
Muir became the anchor of ABC World News in 2011, when it was renamed ABC World News Tonight with David Muir. He was lead correspondent covering the election in 2012, when he interviewed Mitt Romney and First Lady Michelle Obama when she met with Nelson Mandela. He won an Emmy for his coverage of the 2009 inauguration. 
Muir conducted an exclusive interview with President Obama after the U.S. and Cuba reopened relations. It was his interview in which Hillary Clinton apologized for her private email server. Most recently, he spoke with Harrison Ford and Carrie Fisher about their Star Wars roles.
"I liked my character, absolutely," Fisher told Muir, "But [Han Solo was] the better written one, and more close to my personality, kind of sardonic."
Muir has been labeled an "Anchor Monster" for frequently losing his temper and one of the "Sexiest Men Alive." Tune into ABC at 8 p.m. on Saturday to watch him moderate.