Inside Rihanna's #ANTIdiaRy Campaign: A Secret Room in New York Reveals Hidden Clues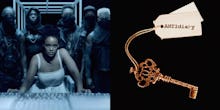 I rushed out of work once my shift ended and ran across a rain-slicked subway platform to catch the downtown train. I had no idea what I was getting myself into, but tracking down any clues about Rihanna's forthcoming album was my mission, and I was determined to succeed.
With each chapter in an extensive marketing effort to promote Anti, her eighth studio album, the Barbadian hip-hop artist has released an interactive online room. These rooms reveal secret codes and messages leading fans to surprises and, well, more secret codes. A set of physical rooms have popped up as well — with the latest being found in New York City. 
Thursday night, in a dark and rainy Manhattan, I went to this room and found a key. What it leads to, I don't yet know.
I arrived at 23 Wall St., an inconspicuous address on a sprawling block packed with people. A tall security guard escorted me inside, where a woman styled as if she just arrived from the 1950s greeted me. She was wrapped in fur and patiently smiling at me as I walked through a small, dark entrance with a group of four. 
I was handed a small white business card which read, "The Oralia Corporation: Private banking and wealth management." 
"Can you keep a secret?"
"We haven't had a group of candidates with this much potential in quite some time," the woman said to us after writing down our names, slowly repeating each one. "What you are about to see inside of these walls is confidential. Your discretion is of the utmost importance. Can you keep a secret?"
IAmTheKeyHolder, the Twitter account involved in the campaign, has sent out cryptic messages and hidden codes since Nov. 22. It launched after video clips from the #ANTIdiaRy campaign aired during the American Music Awards. The anonymous profile has announced the release of each online room, which syncs with a smartphone's camera to provide an online walk-through experience. 
Rihanna's latest album campaign is sponsored by Samsung — following in the footsteps of her mentor, Jay Z. When the rapper dropped Magna Carta Holy Grail in 2013, the first million Samsung device owners to download the album's app were able to listen to the tracks for three days before it was released to the general public. No secret codes, no disturbing videos to sit through — and no creepy buildings like the one I was to explore. 
The woman tasked with greeting us spun around, opening another set of doors as her long, gold earrings audibly swung against her neck. Suddenly, we were on our way into the unknown.
"Not many make it to this level."
We were brought to a large, dark room, where we walked through pitch blackness as eerie noises echoed against the walls. Another woman was awaiting our group underneath a single light near the center of the space, behind a large, mahogany desk. Four chairs were positioned across it, causing the group to hesitantly take our seats as the woman looked on.
"Not many make it to this level," she said, leaving her seat from behind the desk and stepping closer to our faces to inspect us. The story became clear: A company with shady practices was hiring four new employees to fulfill some of its most controversial jobs. We were those employees.
"You will now meet my fellow colleague, who will show you to your first responsibility," she said, showing us the way through blue-lit hallways and a series of staircases. My palms were sweating. This was getting too real for some album release promo.
"You will soon understand everything that is happening."
She led us to a brightly lit, open doorway, where we saw four men furiously punching away on typewriters inside a small, cramped room. Our group filed in a straight line — I was at the front — and then sent into the space, one by one. The men on their typewriters — donning old-fashioned suspenders, glasses and pleated pants — did not look up or make eye contact as we entered. We stood around for two or so minutes, before a fifth man came into the room through a second open doorway (this one much darker than the main entrance). 
"Chris," he said, looking around. We locked eyes and my heart suddenly started racing. "You're with me."
I followed him through the entrance and walked down yet another dark, ominous flight of stairs. After what felt like an eternity, we reached a small chamber with a single ceiling light hanging over a wooden table and chairs only three feet off the ground. He took my hands and handed me a brown satchel, cupping them underneath it. "You will soon understand everything that is happening," he said, slowly pulling at the strings and opening the bag. "It's all about to make sense. Pay attention very carefully." 
I focused on his every move as he began to pull gold coins out of the satchel. He placed six coins in one stack, then four in another. Then he put down another five in a row. I lost track. "Only one person ever escaped from here," he said in a whisper, continuing to place coins on the table as I held the satchel between us. "She had green eyes, just like you. ... She carried a key on her, wrapped around her neck." 
He then drew a brass, Victorian-style key from the bag. He ripped the satchel out of my hands, firmly pressing the key between them.
"This belongs to you!" he shouted. "You need to take this, it's important. This belongs only to you. Get it out of here. Run!"
I took the key and began to sprint to the other side of the room, toward a lit staircase. I sprinted through dark hallways and several other staircases before slamming into a glass door. Suddenly, I was back outside in rainy Manhattan, thrown into a sea of bodies. My hands were clenched around the key, my heart pounding. "This is yours alone," a note attached to the key read. "DM [Direct Message] me with your code."
I felt the inside of my pocket and pulled out the Oralia Corporation business card I was given when I first entered into this experience. As rain drops fell onto the crumpled paper, I unfolded it and noticed a faded message on the back — a set of six numbers and letters. The key had a code carved into it as well. 
What does any of this mean? Is there another room waiting to be found? I sent both codes to IAmTheKeyHolder, waking up the next morning to find a new message:
The #ANTIdiaRy campaign hasn't really revealed any information about Rihanna's eighth album. Perhaps that's because the project is still in the works. Even though the marketing feels entirely separate from Anti, it's as artistic and thoughtful as we can only hope the album will be. For that — for Anti — we'll just have to keep waiting.