Miss Universe 2015: Contestants, Date, Preview and How to Watch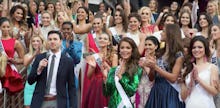 The 64th annual Miss Universe pageant will air live on Fox from 7 p.m. to 10 p.m Eastern on Sunday. Eighty contestants from around the world will compete against each other at Planet Hollywood Resort and Casino in Las Vegas, with Niecy Nash, Perez Hilton, 2012 Miss Universe Olivia Culpo and former NFL player Emmitt Smith serving as judges. Steve Harvey will make his debut hosting; Seal, the Band Perry and Charlie Puth will perform.
The competition is a bit different this year. For starters, fans will get a say in the winner by going online and rating the contestants on a scale of 1 to 10 for the swimsuit, evening gown and interview categories, according to the Hollywood Reporter. This is also the first year the competition is not in the hands of Republican presidential candidate Donald Trump. In September, talent agency WME-IMG bought the franchise from Trump after he made some not-so-delicate remarks on immigration.
The preliminary contest, which won't air on television, took place Wednesday. The contestants were narrowed down to 15 — and they'll be announced during Sunday's pageant finale, according to the International Business Times. 
Among the swimsuit, evening gown and interview categories, each contestant will also don a "national costume" outfit, according to the International Business Times. There will also be a Q&A round.
Italian brand Yamamay is providing the swimsuits. But the real winning fashion piece is the winner's crown, which is estimated at $300,000 with 311 diamonds that are worth 10.37 karats, the International Business Times reported.
Ariana Miyamoto will be representing Japan as its first biracial contestant. She was hesitant to accept her title after facing backlash earlier this year for not being Japanese enough due to being half African-American, the International Business Times reported. Flora Coquerel from France said she was at France's national soccer stadium during the terrorist attacks in Paris, and the pageant will have an even more special meaning for her, according to Inside Edition. Olivia Jordan, who starred in Hot Tub Time Machine 2 will represent the United States. The full list of contestants can be found at the pageant's website. 
"It's weird, I don't feel nervous at the moment," New Zealand's Samantha McClung told E! Online on Thursday. "I'm only nervous about tripping down the stairs or getting my dress caught but I'm actually really excited because the interviews were yesterday so that's kind of the hard part done."
The Miss Universe competition started in 1952 in Long Beach, California, according to its website. The last Miss Universe, Paulina Vega, came from Colombia, and she will crown the new winner.
The preliminary competition for the pageant can be seen below: