Chris Brown 'Royalty': Lyrics, Streaming and Download Options for New Album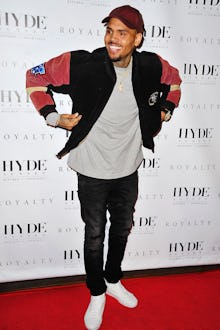 The seventh studio album from American R&B king Chris Brown is available for streaming via Spotify on Friday. The record, Royalty, was originally slated for a Nov. 27 debut, but the album's release date was pushed to Friday. Brown's new effort boasts 18 tracks, several of which were released as singles ahead of the album. The first song to surface from the LP was "Liquor," released in June, followed by "Zero" in September, "Back to Sleep" in November and, most recently, "Fine by Me," also in November.
Read more:  
It's been over a year since Brown released his sixth studio album, X, which came to fans in September 2014. Last year, Brown also worked on a collaboration record with Tyga called Fan of a Fan: The Album, which surfaced on Feb. 24. For the most part, however, the artists has been devoting his attention to his 1-year-old daughter, after whom his new album is named.
Yet just because Brown's been focused on family doesn't mean his new album is family friendly. Though the record opens on the track "Back to Sleep," the lyrics and music video make it abundantly clear that parenting isn't the song's subject.
"For me, with my daughter and most of the records that I make are more sexual — that's how my daughter was made," Brown said during a November interview with Hot 97, according to Billboard. "I wouldn't change my whole regimen of how I move and how I act music-wise. I do music that can appeal to all different ages and all different races."
Lyrics: Though the content of Royalty is on brand for the recording artist, the album received a bit of heat from the International Business Times for the disconnect between the album's title and its content.
"Royalty appears to be an absent thought on the album, thus making the title and album artwork somewhat inappropriate especially given the level of sex featured," writes International Business Times reporter Alicia Adejobi. "Certainly, Brown appears to have matured as a man personally after cleaning up his act but Royalty fails to produce much evidence of his progression as an artist."
Without a doubt, the album's lyrics are hyper sexual. On the track "Who's Gonna (NOBODY)," Brown croons, "I'm taking your lace panties off you, gripping your thighs, oh no / It's gonna be the greatest sex you've ever had in your life / Tell me who's gonna love you like me? Nobody! / Who's gonna touch you like me? Nobody baby." Elsewhere, on "Little bit," Brown sings, "I ain't trying to play with it, if you want it come get it / It ain't nobody's business what I'm 'bout to do with it"
And those lyrics are wildly tame compared to the lyrics that grace the rest of the album, particularly what Brown sings about on "No Filter" and "Wrist."
Listen to the album in full on Spotify and check out the track list for Royalty. The album is expected to hit iTunes for download and purchase on Friday for $12.99.
Royalty track list:
1. "Back To Sleep"
2. "Fine By Me"
3. "Wrist" (feat. Solo Lucci)
4. "Make Love"
5. "Liquor"
6. "Zero"
7. "Anyway" (feat. Tayla Parx)
8. "Picture Me Rollin'"
9. "Who's Gonna (NOBODY)"
10. "Discover"
11. "Little Bit"
12. "Proof"
13. "No Filter"
14. "Little More (Royalty)"
15. "Day One"
16. "Blow It In The Wind"
17. "KAE"
18. "U Did It" (feat. Future)