The 'Star Wars: The Force Awakens' Reactions: Film Has Twitter Users Saying "Wow"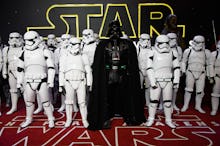 Thursday was a big day in space odyssey history, with the long-awaited premiere of Star Wars: The Force Awakens, the newest installment in the Star Wars movie saga. It had been 10 years since the Star Wars Episode III: Revenge of the Sith, and fans were  anxiously waiting in line — some for days on end —  to ensure they were among the first to catch the new film. 
Opening night was as much a spectacle as the movie with fans dressed to the intergalactic nines. In the U.K., the movie grossed $14.3 million on its opening day, according to the Hollywood Reporter. That's the biggest single day in U.K. ticket sales history, Disney said in the report. Many theaters had already sold out for weeks before Star Wars' opening night. 
Read more: 
The new film, in which Daisy Ridley and John Boyega make their Star Wars debut, earned itself an impressive 95% on Rotten Tomatoes as of Friday. Manohla Dargis from the New York Times also verified the hype of the film, saying its director J.J. Abrams was "what this stagnant franchise needs."  
But Twitter is where fans — even celebrity ones — posted their raw reviews and reactions (not to mention fake spoilers). Below are the reactions to Star Wars: The Force Awakens. Reactions ranged from calling it the best Star Wars to date to being "worth the hype," with many fans saying they were in absolute awe of the film's humor and Ridley's performance.