Meet the Harvard Swim Star Paving the Way for Transgender Athletes in College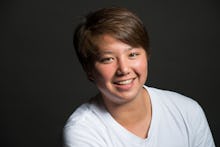 In high school, Schuyler Bailar was one of the highest-ranking female swimmers in the Washington, D.C., area. The swimmer, who competed in the 2013 Speedo Junior National Championships on the same team as Olympian Katie Ledecky, was recruited to join Harvard University's swim team in the fall. But although recruited for the women's team, Bailar will now compete with men instead: Last month, the athlete became the first openly transgender swimmer to compete on a NCAA Division 1 team, according to the Guardian.
Paving the way: While Bailar transitioned to pursue personal authenticity, doing so has meant making an athletic compromise. As Bailar put it, while he has only been taking testosterone for six months, the men he competes against have "been on it for eight years."
"Really, objectively, I'm not any worse than I was," Bailar told the Guardian of his transition and competing with male swimmers. But the swimmer, who called himself "incredibly competitive," has also faced a "tension" since transitioning.
"I wanted to win a lot of things and had a lot of opportunities — that sucks to just lose that, period," Bailar said. "It's hard to know that, as much as I try now, I can't win something."
But Bailar is hardly willing to accept defeat. 
"I'm just kind of adjusting right now," he said. "I'm learning about what I can do ... I'm doing great things ... in my own way."
A complicated legacy: Official rules regarding transgender athletes vary by organization, and most have been defined recently. The NCAA, for example, stated its policy — that "student-athletes can compete on teams of either sex, depending on their hormone use," the Guardian reported — in 2011. But many have been slow to adopt it: As of August, 40 NCAA Division 1 programs admitted they had not adopted these recommendations, according to a USA Today report.
Transgender athletes have also struggled with both perceived as well as realized advantage in competition. While Bailar reports experiencing a relative disadvantage due to his transition, athletes who have transitioned from mens to womens competitions have arguably received more attention — and generated more controversy.
"For some people, no variable matters as much as gender assigned at birth," transgender athlete Joanna Harper wrote in the Washington Post in April of her competitive transition. "They can't get past the idea that I'm a man trying to profit in a woman's sport."
In fact, the MTF transition requires athletes to work harder to maintain their muscle mass. As Dr. Robert S. Beil of Montefiore Medical Group told Shape in September, "losing testosterone means losing strength and having less athletic agility."
As Bailar's experience demonstrates, however, competitive performance may not be a transgender athlete's ultimate priority. While he told the Guardian he values winning, it ultimately pales in comparison to "living authentically." 
h/t The Guardian