The Killers New Album 2016: Latest News on Track List and Potential Release Date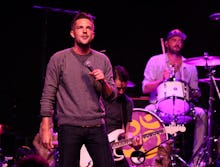 Las Vegas-bred rock band The Killers have a new album on the horizon, which will serve as the follow-up to 2012's Battle Born. It's been over three years since the four-piece alternative rockers released a full LP, and all has been quiet on The Killers front save for a compilation album called Direct Hits which was released in 2013. Though it hasn't exactly been a dry spell for the musicians, as certain band members have focused on solo material in the interim since Battle Born, the band is in the early stages of writing its fifth album and is gunning for a 2016 release, NME reported in November.
"We're writing, we're in the early stages," The Killers frontman Brandon Flowers said in the interview, qualifying the projected 2016 release date with a "maybe."
In a previous interview with NME on Oct. 7, Flowers also said that fans can expect a very different sound from the band on its next full-length endeavor. In the frontman's own words, Battle Born "as a whole wasn't strong enough," Flowers told NME. "We're thinking of switching it up. I think we definitely need to do something different. We need to turn it on its head a little bit." A concrete release date has yet to be announced. 
The backstory: The Killers' current lineup formed in Nevada in 2002 and blew it out of the water with their debut album, Hot Fuss, which was released on June 7, 2004. On that record was perhaps the one single that propelled the band to the public's eye — "Mr. Brightside." After Hot Fuss' release, the track became a runaway hit and a chart topper in the both the U.S. and the U.K.
In May, Flowers released a solo album called The Desired Effect, which followed his debut solo LP, Flamingo, released in 2010. Compared to his work as the frontman of The Killers, Flowers' solo material offers less hard-edged rock. Instead, stripped of the kind of dance-rock that defined the early aughts and contemporary bands like Franz Ferdinand and Interpol, Flowers comes through with more electronica and undertones of funk than ever before on his latest solo work.
The band has announced a single show on deck in the spring — a concert at the Las Vegas Arena on April 6. Members of the band's fan club, known as "The Victims," were afforded early access to pre-sale tickets via The Killers' website, though ticket sales are now available to the general public. Prospective concert-goers can head here to purchase tickets. 
No other tour dates have been announced.