#Boneghazi: Tumblr Is Exploding Over a Self-Proclaimed Thief of Human Remains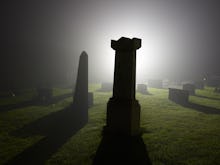 Bones for sale.
On Dec. 12, a New Orleans resident who goes by Ender Darling on Facebook posted something outrageous: About once a month, Darling was visiting the nearby Holt Cemetery, where excess rainwater washes poorly buried bones to the surface, and taking human remains. Darling was purportedly using the remains "for curse work and general spells that require bone." Why human bones? Darling can "relate and work with the energy they carry, if that makes any sense," they said.
The massive online outcry started with the locals. Taking bones from a cemetery is a misdemeanor in New Orleans, but selling them is another story. About an hour after Darling offered to mail remains to anyone interested in exchange for shipping costs, another New Orleans resident lashed out on Facebook with the line "Anyone know this little shithead?"
That post then made its way to a Tumblr call-out post, where the spark of outrage and wonder hit the kindling of the viral Internet. The post currently has more than 31,000 notes. Throughout Thursday night and into the morning, Tumblr's masses generated a wealth of memes, circulating them rapidly in shared disgust, shock, delight and awe. 
The community has already dubbed the bone theft the "last big meme of 2015."
BuzzFeed's Cates Holderness, who first brought the story to Mic's attention, is calling the furor Boneghazi.
Meanwhile, people who practice Wicca are cautioning against misunderstanding and consternation. "I don't use human bones in my craft so please don't hate me and stuff," one user, rexbosworth, wrote.
Of course, what's lost in this discussion is the endemic cause of the sudden availability of bones: the class privileges of being buried above ground. As Ender Darling points out in her initial Facebook post, Holt Cemetery is referred to by the locals as the "Poor Man's Graveyard": The reason these bones are swept up by surface runoff is because many families of the deceased couldn't afford more protective burial procedures.
The text of the entire Facebook post is here:
About twenty minutes from my house in New Orleans is what we call the poor man's graveyard. Most graveyards around here are full of above ground greaves because we live in a fish bowl. But there happens to be a graveyard where its all in ground graves. Those those of us who are too poor to afford above ground burial.
We have reached out to potentially pseudonymous Ender Darling, and will update this story if we hear back.