Your State May Not Be Prepared to Deal With an E. Coli Outbreak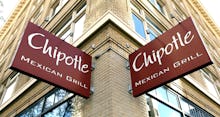 As E. coli makes its way across the country, closing beloved Chipotles in its wake, here's some even worse news: Your state may not meet government standards for handling an E. coli outbreak.
Back in January, the Centers for Disease Control and Prevention released its 2015 National Snapshot of Public Health Preparedness, a report on how federal investments help the country respond to health threats and emergencies. If you didn't read it back then, you might want to take a look now. 
When a state is hit with a potential outbreak, the CDC requires it to submit 90% of its testing data within four working days to PulseNet, a national laboratory network that tracks food-borne illness cases in the hopes of connecting the dots and detecting unrecognized outbreaks. PulseNet has identified thousands of local and multistate outbreaks since launching in 1996, according to the CDC.
According to this report summarizing the data, only 39 states met the CDC's guidelines for reporting E. coli cases to PulseNet in 2013. 
One of the worst performers was Oregon, which only analyzed and uploaded 38% of cases to PulseNet within that four-day window. 
Idaho and Texas performed badly too, at 73% and 75%, respectively.