8 of the Best Adele "Hello" Covers, From the Jaw-Dropping to Adorable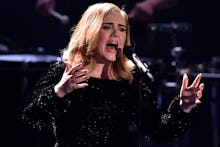 Adele stunned fans when she dropped the hauntingly beautiful "Hello" in October, her first single in three years about the distance between a former self (also possibly her ex-lover). The song broke records for sales and downloads upon its release and countless covers of the ballad have emerged in the past couple of months, from being translated to other languages, sung by a three-year-old girl with an old soul, a college marching band and more. 
"Hello" became the first single to hit a million downloads in the first week upon its release and became the most-watched music video in a single day on Vevo (so long, Taylor Swift). While the song's meaning is up to interpretation, Adele tweeted in October that the album 25 is about "getting to know who I've become without realizing," and "making up for lost time" with herself. Saying "Hello" to her a former self from "the other side" fits that message. Here are some of the most noteworthy renditions of the song that's gone global. 
Read More:
° Adele's 'Hello' Has a Spanglish Version You Need to Hear
1. Afro Pop artist Dela sang a hauntingly beautiful cover in Swahili. 
2. Singer-songwriter Conor Maynard performed a touching cover with a rap twist.
3. This 3-year-old is an old soul. Gushing.
4. The Southern University marching band performed a powerhouse rendition while the school's dance team performed a sultry choreographed dance.
5. A Tumblr user told his friend he'd pay her $20 to learn and perform the song in English and Spanish and play it backwards on the keyboard — no sweat.
6. YouTube singer Amanda Cole's raspy soul vocals were in full-force during her chilling cover. 
7.  R&B singer-songwriter Joe Thomas just absolutely slayed his cover. 
8. A certified American Sign Language interpreter adds intimacy to the song by translating it to sign language.
Correction: Dec. 18. 2015