Did 'Star Wars' 7 Film Break Records? Here Are the Latest Figures and Ticket Sale Numbers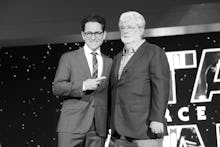 Highly anticipated might have been an understatement for Friday's release of Star Wars: The Force Awakens, the newest addition to the cult space saga, due to its record-breaking ticket sales on multiple levels. Theaters had been long-sold-out and fans camped out for days in order to attend the late-Thursday night premiere, which gave the film all the makings of a real blockbuster. During its Thursday night premiere in North America, the movie raked in $57 million, according to the Hollywood Reporter. Globally, that figure approached $130 million. 
The film might become the biggest movie ever because of Star Wars' huge fan base and its pent-up excitement, Forbes reported. The film has been out for just hours and Twitter is already giving it love, calling it better than the Star Wars films before it, and praising director J.J. Abrams and main heroine actress Daisy Ridley for their work.
The film is expected to rake in over $250 million worldwide over the weekend, according to the Deadline. It's already made $14.3 million on its opening day in the U.K.
The movie is also projected to gross a total of $2.7 billion in profits — not far behind James Cameron's 2009 box office win Avatar, which earned $2.78 billion total, according to Forbes. 
The new Star Wars seems to be well on its way to having a record-breaking resume. Just leading up to its release, the film already broke pre-sales records, raking in over $100 million as of Tuesday, according to Variety, and becoming Fandango's top pre-sales ticket-seller ever. 
Even the film's merchandise is bringing in the dough. Analysts predict up to $6 billion worth of Star Wars merchandise will be sold in the year following the Star Wars: The Force Awakens' release, Hollywood Reporter reported.
Star Wars: Phantom Menace, which came out in 1999, might lose its spot as the series' highest grossing movie so far, with $1 billion, Fast Company reported.