Congress Passes Massive Omnibus Bill, Ending Yearlong Battle Over $1.1 Trillion Budget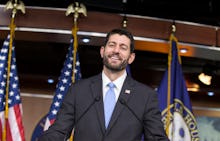 In a rare moment of bipartisan cooperation, Congressional Republicans and Democrats passed a massive $1.8 trillion tax and spending package on Friday, assuring government funding through September 2016. The measure passed 65 to 33 in the Senate following a successful vote in the House earlier in the day.
The 2,000-page "omnibus" bill packages legislation put forward by a dozen appropriation subcommittees, ranging from funding for 9/11 first responders' health care to authorization for the creation of electronic intelligence programs. The result of months of negotiations between congressional Republicans and Democrats, the measure's passage sets the stage for a likely trillion-dollar budget battle only weeks before the 2016 general election.
"This bipartisan compromise secures meaningful wins for Republicans and the American people, such as the repeal of the outdated, anti-growth ban on oil exports," said Speaker of the House Paul Ryan (R-Wisc.) in a statement released to Politico. "The legislation strengthens our military and protects Americans from terrorist threats, while limiting the overreach of intrusive government bureaucracies like the IRS and the EPA."
House Minority Leader Nancy Pelosi (D-Calif.) was less effusive of the measure in a statement released before its passage in the House of Representatives. "Republicans' tax extender bill provides hundreds of billions of dollars in special interest tax breaks that are permanent and unpaid for," Pelosi said. "These massive giveaways to the special interests and big corporations are deeply destructive to our future. We have a responsibility to pass legislation that grows the paychecks of hard-working families and invests in the future of our children. The tax extender bill fails to meet that test."
A mixed bag: The many pieces of legislation in the omnibus include year-end stocking stuffers for both parties, and more than a few hunks of coal. Included in the fiscal deal is a package of tax breaks worth $680 billion and a $66 billion increase in federal spending, divided equally between military and non-military programs.
Members of both parties saw lost opportunities to squeeze more blood from the stone. Conservative House Republicans and tech-focused Democrats were frustrated by the last-minute inclusion of legislation that gives tech companies immunity from civil actions when sharing user data with the federal government relating to hacks. On the other side of the aisle, liberal Democrats were frustrated by a bipartisan decision to lift the 40-year ban on U.S. crude oil exports, an initiative that could boost domestic oil production and has been on the Christmas list of fossil-fuel conglomerates for decades.
Perhaps the least controversial measure — at least, among American voters — is the inclusion of lifetime medical care for first responders to the terrorist attacks on Sept. 11, 2001, for illnesses related from their work at Ground Zero in Lower Manhattan.
President Barack Obama is expected to sign the measure into law later on Friday.