This Woman Is Bringing Dreadlocks to the Miss World Pageant for the First Time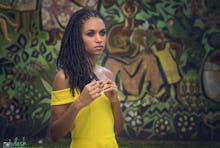 Meet Sanneta Myrie.
The 24-year-old doctor was crowned Miss Jamaica in August and is set to compete in the Miss World pageant on Saturday, in Sanya, China. Myrie, like other contestants, has plenty of hobbies: She likes to dance, aspires to join Doctors Without Borders and is a volunteer counselor for the University of the West Indies, according to her profile on the Miss World website.
But she's also notable for something else: having her hair in locs. 
The hairstyle, which consists of twisted strands also referred to as dreadlocks, is a rare sight among beauty pageant contestants, according to Femde. In fact, it appears that Myrie is the first Miss World contestant to ever compete while proudly displaying her hair in locs. 
Dreads on the international pageant stage are rare. It wasn't until 2007 that the hairstyle was seen at the Miss Universe competition, when Zahra Redwood became the first Miss Jamaica crowned from the Rastafarian faith. Redwood wore the hairstyle to help break down stereotypes about Rastafarians, she told Reuters.
"People criticize what they don't know or understand and develop preconceptions, and so given that, I have gone against what they've developed as a stereotype," Redwood said.
In wearing her hair in locs, Myrie is helping do the same. When asked to describe her personal style, she told Jamaica Observer that her culture plays a big role. 
"My life has always been rooted in the arts and culture which has significantly impacted my own personal style. So even when I select glam, it has to have an ethnic urban twist to it," she told Jamaica Observer. 
Seriously, check out her hair. If that's not glam, we don't know what is.
Miss World has had few black winners in years past. When Miss Nigeria won Miss World in 2001, she was the first black African contestant to do since the competition began in 1951, according to Femde, whereas previous winners from African countries were decidedly more "European-looking."
Myrie's decision to wear her hair in locs is a noteworthy step toward presenting a more diverse beauty aesthetic in the media landscape, which is slowly seeing more representation of black women with natural hair. At this year's Victoria's Secret Fashion Show, Angolan model Maria Borges walked the runway with her natural, cropped hair, marking a proud departure from the lingerie model norm (all... those.... blowouts). 
The beauty standard can shift, and we're seeing it happen before our very eyes — including this weekend at Miss World.
h/t Femde