Pharma Bro Martin Shkreli Resigns as CEO of Turing Pharmaceuticals After Arrest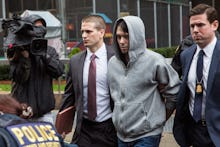 Pharmaceutical company Turing announced Friday that Martin Shkreli, infamous for hiking the price of a life-dependent HIV drug by 5,000%, resigned from his position as the chief executive officer of the company after he was arrested Thursday for securities fraud. The company's chairman of the board of directors Ron Tilles will replace Shkreli as interim CEO.
"We wish to thank Martin for helping us build Turing Pharmaceuticals into the dynamic research focused company it is today, and wish him the best in his future endeavors," Turing's statement reads. The FBI arrested Shkreli, 32, on Thursday on the suspicion that he used stock from Retrophin, the biotech company he founded in 2011, to pay off personal debt.
Read More:
Here's the full statement from Turing:
"We remain committed to ensuring that all patients have ready and affordable access to Daraprim and Vecamyl," it says in Turing's statement. Daraprim is the HIV medication Shkreli raised the price from $13.50 to $750 in September, a move that sparked widespread public outrage. People on Twitter celebrated his arrest Thursday — actress Debra Messing tweeted "Karma's a bitch," a sentiment plenty of others on social media echoed. 
An investor who requested anonymity told the New York Times on Friday that although his Thursday arrest had nothing to do with his position at Turing, it would be unjustifiable for Shkreli to remain CEO of the company after the accusations. 
Dec. 18, 1:15 p.m. Eastern: This story has been updated.
Get the five stories that will challenge you to rethink the world by signing up for MicCheck Daily.