Two Chicago Police Officers Involved With Laquan McDonald Shooting Have Been Promoted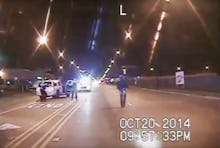 Two Chicago police officers involved with the investigation of the shooting of Laquan McDonald last year have received promotions within the department, according to reports.
Fox 32 writes former Deputy Chief of Patrol Dave McNaughton — the highest ranking officer on duty the night of Oct. 20, 2014 — was recently promoted to Deputy Chief of Support Services, while Officer Eugene Roy, who was the "Detectives Commander of the Area handling the investigation," has been promoted to Chief of Detectives.
Neither officer has been accused or found guilty of wrongdoing, but some have questioned the message their promotion sends less than a month after Mayor Rahm Emanuel's office released footage of the McDonald shooting to the public, sparking weeks of protests and calls for resignations across the mayor's administration and the police department.
"I think that it sends exactly the wrong message to the people of the city of Chicago, once again as this entire case has from the beginning to the present," Flint Taylor, a longtime civil rights attorney, told Fox 32.
Jason Van Dyke, the officer who killed 17-year-old McDonald — whom he shot 16 times — was charged with murder by State's Attorney Anita Alvarez on Nov. 24, after 13 months of an alleged cover-up surrounding a patrol car dash camera recording of the incident. The city settled with McDonald's family for $5 million in April, on the condition the video stayed under wraps.
In November, however, a Cook County judge compelled the city to release the video to the public. The backlash from Chicagoans has been swift, with many calling for the mayor to resign. The city has since pledged its commitment to greater police accountability, releasing video footage of two other deaths of black men — Ronald Johnson III and Philip Coleman — at the hands of Chicago police over the last month.
Emanuel has since fired former Police Superintendent Garry McCarthy, announced the formation of a police accountability task force in the city and "welcomed" an impending U.S. Department of Justice investigation into the practices of the Chicago Police Department. 
But many insist it is not enough. "The reality is, we're kind of past the point of cosmetics here," Ed Yohnka, director of communications and public policy at the ACLU of Illinois, told Mic previously. "There's been this fundamental breakdown in terms of trust ... [and] it's systemic."
"Emanuel's recent actions [including the accountability task force] are a small fraction of what needs to be done in Chicago to protect the lives of black people and hold corrupt public servants accountable," Camesha Jones, communications co-chair for the Black Youth Project 100's Chicago chapter, told Mic previously.
In addition to the McDonald case, CPD has spent $500 million on legals costs and settlements stemming from police misconduct cases over the last 10 years.