What Time Is the 2015 ABC Democratic Debate and Other Quick Facts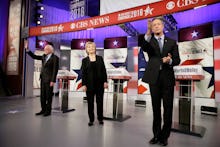 Three is the magic number for Saturday evening's Democratic primary debate, which is hosted by ABC at Saint Anselm College in Manchester, New Hampshire. The three candidates going face-to-face for the third debate are former Secretary of State Hillary Clinton, Vermont Sen. Bernie Sanders and former Maryland Gov. Martin O'Malley. The 8 p.m. Eastern debate will be livestreamed on ABC and will be moderated by ABC anchor David Muir, WMUR-TV Political Director Josh McElveen and correspondent Martha Raddatz.
Clinton, with 46%, and Sanders, with 48%, are going head-to-head, according to Thursday's Boston Herald/Franklin Pierce poll as reported by ABC.
Like the Republican debate and in the wake of the recent attack in San Bernardino, California, the Democratic candidates will most likely discuss national security and terrorism, according to the Street. Hinging on that might be the topic of gun control, to which Clinton stuck to her pro-gun platform in the last debate.
Drug policy is also a possible topic for discussion, since New Hampshire is currently in the midst of a drug epidemic, according to ABC. Local news station polls show the drug epidemic to be one of New Hampshire's residents' top concerns. 
After months of debate, the Federal Reserve increased the federal-funds rate on Wednesday. Sanders criticized the move via Twitter, and the Street predicts this topic will arise. 
Speaking of Sanders, someone from the Vermont senator's campaign allegedly hacked the firewall of voter data from Clinton's campaign. In reaction, the Democratic National Committee suspended his campaign's access to the data, Mic reported on Friday.
The debate may be O'Malley's last chance to make a notable presence for himself, although his chances for the nomination are slim, according to Mashable. He could, however, use the debate to prove himself a good vice president option or cabinet choice. 
The debate will be the last of its kind for the year.