This Awesome Service Will Literally Deliver Birth Control Pills Right To Your Door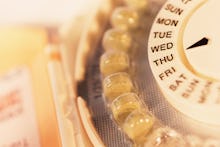 These days, we can pretty much get by on a daily basis without ever leaving our couches. Now that we have the ability to order everything from food and clothes to drugs and booty calls, what earthly reason do we have to actually get up? 
Now, we have yet another reason to keep our butts glued to our seat cushions: a company called Nurx has started delivering hormonal contraception right to your door. 
The San Francisco-based delivery service brings a range of contraceptive options right to people's homes, making it more than just another tool to facilitate being a shut-in. Offering dozens of different birth control brands and choices between the pill, patch and ring, Nurx provides free birth control for women who have insurance, and charges a fee as low as $15 for those who don't. 
Nurx also plans to offer Truvada for PrEP, a drug treatment that has proven effective at preventing HIV transmission, making the tools for overall sexual health more widely accessible not just to women, but to everyone. 
Well, sort of: Currently, Nurx only serves the San Francisco area. But there's good news for people in its delivery zone: The company's bike couriers should arrive with birth control in under two hours. If the service is able to expand beyond California, where pharmacists will soon be able to write prescriptions for contraception (thereby making birth control more accessible than other states), it could have major implications for health care access across the country.
The idea of delivering birth control, let alone other personal health services, isn't new. In 2014, for instance, Planned Parenthood piloted a telemedicine program in Washington and Minnesota that allowed patients to have online video consultations with physicians, who could then prescribe and deliver medication — including birth control — in discreet packages. 
Nurx joins the company of sites like AfterPill, which markets lower-cost emergency contraception that people can order in advance, instead of being forced to take a trip to the pharmacy. Such services have the potential to eliminate major inequalities in health care access by allowing women in particular to get the pharmaceuticals they need, when they need them. And yes, they're also another reason to stay comfortable on the couch. 
h/t Bustle