ABC Democratic Debate 2015 Livestream: Here's How to Watch Saturday's Debate Online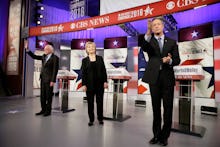 The third and last Democratic presidential primary debate of 2015 will take place on Saturday in Manchester, New Hampshire. ABC is hosting the live broadcasted event, where landslide frontrunner Hillary Clinton, Vermont Sen. Bernie Sanders and former Maryland Gov. Martin O'Malley will face off. 
The likely two-hour debate will air at 8 p.m. EST from Saint Anselm College and be streaming on ABC's live news site, no cable subscription needed.
ABC is collaboratively hosting with the New Hampshire Democratic Party and Manchester newspaper the Union Leader. ABC World News Tonight anchor David Muir and ABC Chief Global Affairs Correspondent Martha Raddatz will moderate the debate. Raddatz moderated the 2012 vice presidential debate, Politico reported.
According to the Verge, YouTube will stream the next Democratic debate after Saturday's, hosted by NBC and scheduled for Jan. 17. The next Republican debate is slated for Jan. 14  and will be hosted by Fox Business Network in South Carolina, CNN Money reported.